A Hollywood horror in theatres now
'A Quiet Place'
View(s):
'A Quiet Place' Hollywood horror movie directed by John Krasinski is now being screened in theatres in Colombo and suburb.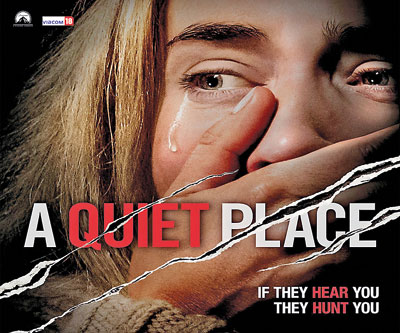 Produced by Michael Bay's company, Platinum Dunes, the screenplay was written by Krasinski, Bryan Woods, and Scott Beck, based on a story by Woods and Beck. The plot follows a family who must live in silence while hiding from creatures that hunt by sound.
In the modern horror thriller 'A Quiet Place', a family of four must navigate their lives in silence after mysterious creatures that hunt by sound threaten their survival. If they hear you, they hunt you.
Interestingly, the film is mostly presented by using American sign language, due to a member of the cast being deaf.
'A Quiet Place' is now being screened at Liberty By Scope Cinemas, Savoy, MC Superior, Sky Lite Malabe and a number of theatres around the country.