Asia Siyaka's Rs.650 mn tea warehouse improves storage options
By Sunimalee Dias
View(s):
Warehousing is reaching new heights by maximising on space in a bid to provide the tea industry with an improved service to house their stocks found only at the Asia Siyaka facility at Wattala.
Improving on the previously established 110,000 sq. ft storage facility with seven levels, Asia Siyaka has increased its warehousing within 87,000 sq. ft area with eight levels with a complete computerisation of the location investing Rs.650 million, Asia Siyaka Managing Director Anil Cooke said in an interview with the Business Times.
He noted that the company was looking at logistics as a way forward and would be eyeing more expansion plans in time to come. Mr. Cooke explained that the new facility opened in 2016 allowed for free airflow that ensured the teas were stored under dry and cool conditions.
There are currently 10 bays to be used for stacking from a floor clip or large sized stacker vehicle that is manually operated with the operator clearly given a number and letter code on where to stack the teas as mentioned on each palette. There are four small stacker vehicles and four large stackers or floor clips in use currently at the facility.
Mr. Cooke claimed that the freshest teas were available as the time from manufacture to sale is considered the shortest in the world at Asia Siyaka since the value chain is short from the point of manufacture to being sent to auctions and then distributed to buyers is done in quick time.
He noted that many other warehouses had studied their systems and had developed their own facilities accordingly.
He also explained that in order to design this system in Sri Lanka they had travelled to a number of countries like Dubai and Singapore to review practices employed in other parts of the world.
However, the loading and unloading is carried out manually by workers from Asia Siyaka and those employed by lorry owners sent from the respective companies.
Almost all brokers and manufacturers continue to store their stocks at the Asia Siyaka facility it was pointed out.
Three weeks before the auctions the teas are sent by manufacturers to the warehouse and two weeks prior to the auction samples are sent to the main buyers that could even increase to about 1400 while some request for only a few samples.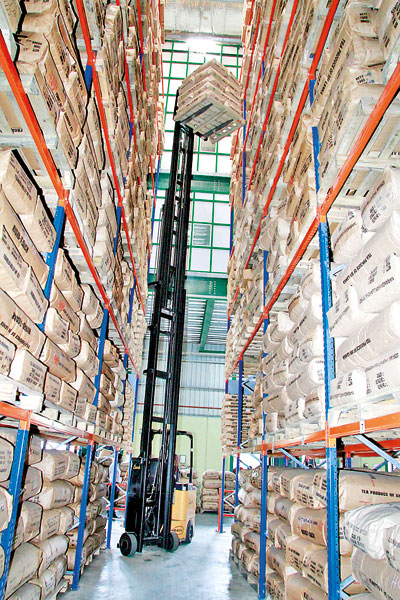 The wooden pallets used to store these tea bags are being treated in a bid to ensure they would not be infected by insects. As part of maintaining cleanliness the store is vacuum cleaned with a sweeper machine as it would ensure that all dust particles are swept out.
The facility has also been given a green certification for its use of LED bulbs, solar panels, grass on the outside and recycling the water sent out from the sewage system.
With the complete computerisation of the warehouse, it is possible to determine where each stock of teas could be accessed immediately by checking through the computer files.
About 25,000 to 30,000 packages of tea are being stacked at both warehouses sent from around 80 companies that comprise tea smallholders and the regional plantation companies as well.