CB puts in mechanism for real estate sector compliance
View(s):
The Financial Intelligence Unit (FIU) of the Central Bank (CB) has included stringent Anti-Money Laundering/Combating Financing of Terrorism (AML/CFT) criteria into the real estate sector in a bid to prevent black money or undeclared currency creeping in, officials confirmed.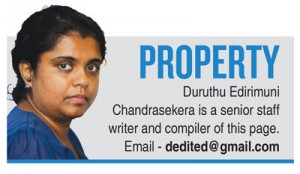 Since about a month ago, the condo builders are required to submit a 'compliance document' or the blue form as it is commonly called, each month. A FIU official told the Business Times that each builder was requested by the FIU to register as a 'property developer' at the FIU. "This is a new criterion," he said noting that this is an additional requirement apart from being incorporated as a company.
The FIU has also requested builders to appoint as a 'compliance officer', a senior employee of the company who will be responsible for all compliance related transactions. "The compliance officer will function as the contact point for the FIU," the official said. He added that this officer will monitor all suspicious transactions and 'high value' transactions. The limit for a high value transaction is yet to be set by the FIU, a builder told the Business Times adding that within this month the FIU will be sending the prescribed limits.
Under Section 33 of the Financial Transaction Reporting Act (FTRA), No. 6 of 2006, real estate businesses are categorised as one of the designated non-financial businesses (DNFBs). "Accordingly, customer identification is essential when buying and selling immovable properties by business entities or persons engaged in real estate sector," the official added. DNFBs are subject to compliance, legal and reputation risk owing to non-detection of their bank accounts, other banking products and delivery channels being misused by the criminals to launder money.
The real estate sector in Sri Lanka has been categorised at medium level risk for Money Laundering/Tourist Financing (ML/TF) under a National Risk Assessment conducted in 2014 by the Financial Action Task Force (FATF), a unit of the CB, but officials say that now this may be higher. He said that as a money laundering vehicle, a mass of mechanisms frequently used with real estate transactions can irritate efforts to expose the criminal source of funds, such as nominees, fake mortgages, solicitor–client privilege, and legal trust accounts.
Reporting of Suspicious Transactions (STRs) of the FIU and recordkeeping is required to mitigate the ML/TF risk in real estate businesses, he said. A suspicious transaction prescribed by Section 8 (1) of FTRA is one where an institution has reasonable grounds to suspect that any transaction or attempted transaction may be related to the commission of any unlawful activities or any other criminal offence, and in such a case the institutions must inform such transactions to FIU.