Royal College 62 Group reunion in Kerala: Rekindling old bonds and making new ones
View(s):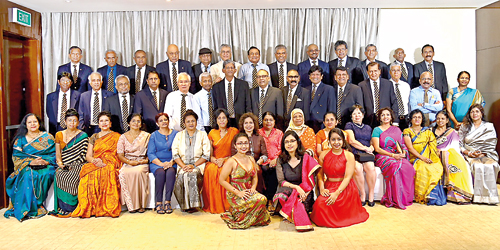 It has been scientifically established that positive social interactions exert a buoyant power on people. When such socialization is between friends who have known each other for about 60 years, the benefits to all are significant.
Royal College's 1962 Group, held a reunion in Kerala at the Kochi Marriott Hotel recently. A group of 47 participants including spouses enjoyed three nights there, the majority from Sri Lanka with others flying in from USA, Australia, Singapore, UK and Malaysia.  Kanishka, Dushy, Kapila, Nava, Hamza, Dushantha, Anura, Rohan, Nirmo and Rajindra had made all arrangements successfully, from Colombo.
The participants flew in on February 9 and settled in at the hotel, familiarizing themselves with the adjacent LuLu International Mall, said to be largest in India. The first excursion was on February 10 when everyone boarded the luxury bus arranged for the reunion for the famed Athirapilly waterfall about 70 km away.
Later that evening, the formal reunion was held at the Marriott Hotel. Individual and group photographs were taken, before the singing of the College Song. Kanishka made the welcome speech followed by speeches from Dushy, Ranjan and Kapila with the vote of thanks delivered by Kuo Peing. A silent remembrance was held, after the names of 36 Classmates who have gone ahead 'to await the reunion of tomorrow', were read out.
On Sunday, the coach made its way to Alleppey where on the banks of Lake Vembanadu everyone boarded a house boat for a day cruise. Scenic surroundings and a leisurely cruise made for relaxation and enjoyment. The owner/skipper of the boat and his staff managed the vessel, allowing anyone who desired to take a turn at the wheel. Lunch was at Kayal Theeram Family Restaurant on a small island, a tasty rice and curry with fried fish.
Dinner at the Paragon Restaurant located on the 3rd floor of the LuLu Mall was a fitting finale to this reunion. Everyone enjoyed the best Kerala Biriyani amidst exchanging of contact details and plans for meeting again before long.
The bonds rekindled among classmates, and firm ties forged between spouses as well, ensures that this group will continue to flourish in the years ahead.It is apparent that they have moved past talking about 'the good old days' and are enjoying the present in each other's company, creating new memories to savour in the years ahead.