HSBC Fashion Week: Enter designing with responsibility
By Shakya Wickramanayake
View(s):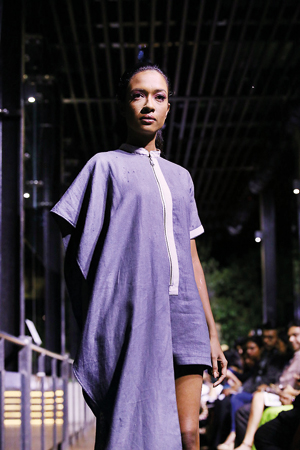 The 15th instalment of the HSBC Colombo Fashion Week will take place from March 19 to 25 this year. Kicking off Fashion Week on March 19, will be the Responsible Fashion Summit, at Hilton Colombo. A new addition to the usual CFW line up, the summit is the first on sustainable fashion to be held in the country.
The summit will focus on fostering responsibility, accountability and responsiveness in the fashion industry based on its founder, Ajai Vir Singh's vision for 'Fashion for Good'.
Identifying that the global fashion industry is one of the biggest environmental polluters, this year's summit will focus on eight areas on which the industry impacts the environment, with the objective of finding solutions in those areas. They are design, craft, communities, fabric, production, logistics, retail, consumption and disposal, thus introducing responsibility from the design process itself. The summit will feature a panel of renowned international practitioners, including Bangladeshi designer Bibi Russell and British writer and sustainability advocate Lynne Franks. The panel also features industry leaders in
Sri Lanka, such as Sarinda Unamboowe, Nikhil Hirdaramani, and Anusha Alles.
The summit won't be focusing just on those already in the industry but is also inviting future generations into the conversations through student involvement. 'Making the Green Tee' challenge is one such way students are involved. A fashion hackathon organised in collaboration with MAS will see four student design teams presenting their own  innovative and environmental  friendly t-shirt  designs at the  summit.  A body of 'Future Green Leaders and Thinkers' too will be conceptualised during the summit. Their aim is to create a generation of green conscious designers, and they plan to enlist the aid of fashion schools for this purpose.