Mob rivalry spills blood on public streets
By Nadia Fazlulhaq
View(s):
A series of shootings over the past few weeks, some in broad daylight, on busy streets and on public transport, have raised concerns over a rise in underworld rivalry that is putting the lives of ordinary people at risk.
The concerns were expressed after many incidents of killings were reported over the past two weeks from Tangalle to Hulftsdorp in Colombo, from Polgahawela to Thalangama with pistols being used in most cases.
Last Monday, passengers in a bus travelling from Matara to Ampara had a traumatic experience in Mirijjawila when a man got into the bus, shot a passenger travelling with his wife, jumped out and fled in a car parked nearby.
The man succumbed to gunshot injuries upon admission to the Hambantota Hospital. According to police, the murdered man, aged in his 30s had been returning from the hearing of a murder trial at Tangalle High Court.
Police spokesman Superintendent Ruwan Gunasekara said police had found the getaway rented car and made an arrest.
Last month also saw the shooting and killing of a 39-year-old businessman near the courts complex in Hulftsdorp. The gunman was assaulted by onlookers and was pronounced dead at the Colombo National Hospital.
On Cotta Road, Borella, a 32-year-old man driving a car was shot and injured near the railway crossing on Cotta Road. The attackers, unidentified gunmen on a motorcycle, fled the scene.
A man and his wife from Thalangama were shot while in bed by gunmen who arrived at their house on a motorbike and had mistaken them for an enemy. The husband died of gut shot injuries while the wife is in critical condition. According to police, they had rented out their annex to a person involved in underworld dealings.
Similar incidents took place elsewhere in the country: on February 25, a man from Batekumbura, Polgahawela was shot dead in his home by a gunman.
While in the United States mass shootings are a menace, prompting pressure for strict gun laws, here in Sri Lanka there is a rising fear in public of being innocent victims of gang rivalry, said Professor of Criminology M.W. Jayasundara. He said most problems are caused not from licensed guns but weapons used in the war that are circulating in the country.
"Military deserters played a role in supplying weapons to the underworld," he said. "During the previous regime there was some control of the underworld but now there is a rise in weapons usage among those involved in trafficking when there is a gang rivalry and contract killing in business rivalry.
"The law and order authorities should deal with this with a firm hand despite political interference as public safety is in jeopardy," he said.
Prof. Jayasundara said the Police Special Task Force should be equipped with training and all equipment to prevent gun violence while military leaders should ensure no ammunition or weapon leaves army camps to end up in the hands of outsiders.
Army spokesman Brigadier Sumith Atapattu said the army needs to be more equipped with technological surveillance such as CCTV cameras to make sure soldiers do not smuggle weapons out of camps.
"Army deserters are not solely responsible for the circulation of weapons in the country. During the conflict, weapons such as pistols, and T56 [assault rifles] were circulating all over the country. This is why we see more shootings in the south," he said.
Following the recent grenade blast incident inside a bus heading to Diyathalawa, the army spokesman said there is a system to check all bags of soldiers who leave army camps and it will be strictly implemented. He said the armoury is well protected, with counting of contents carried out on a monthly basis.
He said the army was willing to work with police in curbing gun violence and underworld activities.
Superintendent Gunasekara said most of the weapons used in recent shootings were pistols and that the Police STF continued to round up underworld gang leaders such as D. Manju, who was shot at Wattala.
"It is not an easy task as they too have weapons and fire at police such as in the recent Wattala incident," he added.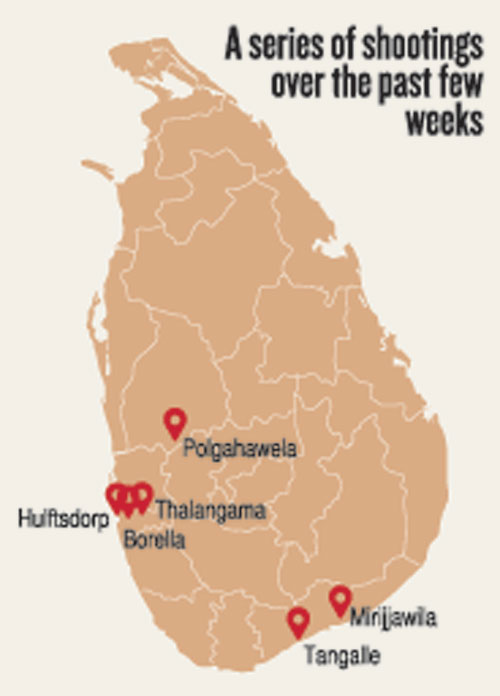 Last year, illegal firearms seized by police included 34 T56 guns, 23 pistols and 22 revolvers.
Section 22 of the Fire Arms Ordinance states that, "No person shall have in his custody, or possess or use any gun unless he has a licence for the same". Mr. Gunasekara said possession of an illegal firearm was an unbailable offence.