Refuge for book lovers, artists and more
By Shakya Wickramanayake
View(s):
Two friends, Amanda Senewiratne and Hazeem Iqbal, decided there was no time like the present to unveil their pet project to both their family and the general public. So without much pomp the two friends opened the doors of 'Pages and Coffee' to the public on January 29. "We were still doing touch ups when people started wandering in," says Hazeem.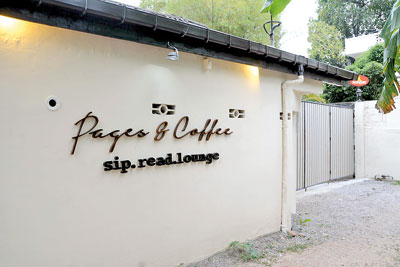 A culmination of their two joys- 'Pages and Coffee' is a coffee lounge dedicated to the love of reading, books and of course coffee. A novel idea to Sri Lanka, it marries the concept of a library with that of a coffee shop. "It's a bookworms paradise," Amanda tells us, as she explains how it has everything from a large and varied library to comfy bean bags to hunker down in for some serious reading, and a steady supply of coffee and snacks to fuel you through out.
Situated down a private lane off Cotta Road, in Rajagiriya, 'Pages and Coffee' is cut off from the hustle and bustle. The entire place has a very organic and authentic vibe to it, from the food, to the space, to its overall atmosphere. Its devoid of frills, allowing you to instantly feel at home. In fact the owners tell us that it was their intention to create a simple 'Kopi Kade' atmosphere. "We want it to act as a stress relief and a refuge," says Hazeem. " We tried to incorporate every sort of de-stressing method," Amanda adds.
The lounge consists of two rooms and a garden area. The first of the two rooms has small table seating seen in a typical coffee house, which is ideal for getting some work done or a chat over coffee. The second room houses the library, and is more or less dedicated to reading , with bean bags dotting the space. The library is creatively displayed on levels of shelves that branch out from planks of wood that emulate tree trunks. Adding to the overall aesthetic is the ceiling which is lined with newspapers.
So far their library boasts a collection of 400 books, spanning a wide range of genres, from the autobiographies of Muhammad Ali and Lance Armstrong, to the works of Shakespeare, Charles Dickens, and Jane Austen, to comic books.
They even house a wide collection of local writers including Ameena Hussein, Ashok Ferry, and Carl Muller. Building up the library took patience, the duo explain who took books from their personal collections, as well as bought several from the 'Big Bad Wolf'(the international book sale that took place in Colombo earlier last year) , and from the secondhand booksellers of Darley Road. So the library is a mix of pre-loved, brand new and vintage, but primarily English books.
The library will have an accompanying index system which allows readers to note down which page they stopped at and on which book. Thus making it easier to resume the next time they visit by merely referring to the system.
Their menu will be an evolving one, with the aim to change it up daily. But will be offering a range of cookies, coffee, kurrkuan sandwiches, and burgers at all times. The aim to offer food that is practical to eat, so you can snack while never having to put your book down. And they do so at a decent price with all items being priced below LKR 500.
We found their Chicken Burger had a homemade feel to it, as opposed to tasting like fast food. This can be credited to the fried chicken they use instead of a patty, which had a curried marination to it and was sans batter. We also highly recommend their chocolate mint cookies, which literally melt in your mouth and are quite sweet. Whereas their oatmeal cookie isn't as sweet, but has a more breakfast feel to it. But the highlight of their menu is the coffee. "We realized that in a lot of coffee shops you don't get the real coffee," says Hazeem, a self proclaimed coffeeholic, alluding to the use of non-organic and blended coffee beans used by most establishments. Instead 'Pages and Coffee' use organic single origin coffee from the Italian brand 'Mokasirs'. The difference is startling as the coffee produced is devoid of the sharp bitterness most have come to associate with plain coffee, while still producing a rich aroma and taste.
Its easy to see that 'Pages and Coffee' is a labour of love, and the owners hope it will act as a place where book lovers, artist and students gather to discuss, relax and create.
Pages and Coffee is located at No. 437/1 Cotta Road, Rajagiriya. They operate from 3pm to 9pm on Fridays and Sundays, from 10am to 9pm on every other day, and are closed on Wednesdays. Follow them @pagesandcoffeelounge on Instagram