Evergreen life for Keerthi
View(s):

Popular musician and vocalist Keerthi Pasquel recently launched his latest band 'Evergreen' with a grand musical concert at the Bishop's College Auditorium in Colombo.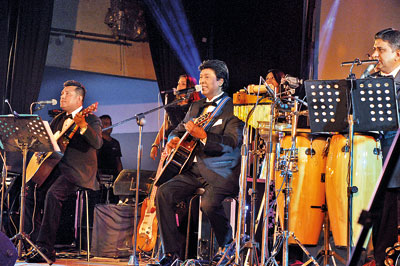 Started his career as a musician with the band 'The Fortunes' led by veteran Stanley Peiris in the late 80s, Keerthi's popularity hit the top as a singer during the last two decades.
'I started my career with a band and I think now I should continue my singing career with a group of musicians. I am launching my new band responding to requests by a large number of music enthusiasts' he said.
After leaving the Fortunes, Keerthi performed as a bass guitarist with several other popular bands. His new band 'Evergreen' comprises some talented and experienced musicians in addition to a few vocalists. 'My group of musicians are capable of delivering any kind of music style and any song according to the occasion.
We can dish out the very best to suit any occasion – be it musical concerts, weddings, dinner dances, product launches, sing a-longs or a corporate function. We can cater to any type of audiences ranging from old hits to the latest in Sinhala, English, Tamil and Hindi languages' Keerthi explained.
Ronnie Leitch, Sohan Weerasinghe, Samitha Mudunkotuwa and several other musicians were featured at the Evergreen Music concert along with Keerthi.