"Compassion. The History of the Machine Gun" A play, a victim and witness of genocide
View(s):

"Compassion The History of the Machine Gun" the celebrated theatre play by director Milo Rau will be presented on March 8 at the BMICH.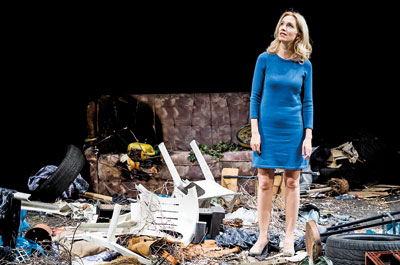 This is a play, that deals with the impossibility to help. The stories of two actresses, one a victim of the Genocides in Africa, the other a witness, show the paradoxical perception of sorrow and pain, which now and then face empathy but at the same time complete disregard. The development aid worker, portrayed by Ursina Lardi, finally has to recognize how cynical the compassion aesthetics of the west really are – a result, which is confirmed by Consolate Sipérius, who was born in Burundi and after the Genocide in 1993 raised in Belgium.
The performance, that is based on Interviews with NGO-workers, priests and war victims in Africa and Europe, consciously enters challenging terrain: How do we endure the misery of others, why do we watch it? Why does a dead person at the gates of Europe weigh more than 1000 dead people in the Congolese civil war zones?Can compassion have boarders? The award-winning director Milo Rau takes the spectator on a journey to those people who live beyond the focus of the European compassion industry and asks: Who sees us if we suffer?
"Compassion.The History of the Machine Gun" was first performed in 2016 at the renowned German theatre Schaubühne in Berlin and has since then toured all over the world with stops in Moskau, Paris, Prag and many more.
Entrance is free and the Invitations can be picked up during the opening hours at Goethe-Institut in Colombo or by contacting through intern1@colombo.goethe.org