'Tony's recipes' spices up Raffles Residence's 18th b'day
By Oshani Alwis
View(s):
Raffles Residence, in the heart of Nugegoda marked its 18th anniversary with an elegant evening celebration last Sunday at the Grand Ballroom. The evening was paired with the launch of a recipe book by the man behind the venture itself, Tony Bohoran, Raffles Managing Director.
Inspired by his 35 years of experience as a chef, 'Tony's Recipes' runs the gamut from exquisite starters, soups and salads to sea food, poultry, meats, desserts and refreshing beverages , all tried, tested and tasted.
'Raffles' being launched to meet Tony's wish to start something of his own, the recipe book is a proof indeed of his skills and talents as a chef. The book is dedicated to Surahee Bohoran, Tony's beloved mother who was the pillar behind his success.  Speaking at the event Tony said, "We are really proud of our journey through good and hard times since 1999, the establishment of 'Raffles' – one of the few companies to have achieved the ISO standard in the field of catering and banquets."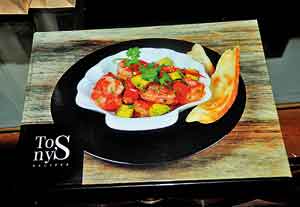 Tourism Minister John Amaratunga was the Chief Guest on the occasion and also present were members of the Board of Directors of 'Raffles', Oscar Wanigasekara, Mohan De Silva and Shan Nawaz.
Addressing the gathering, Minister Amaratunga stated, "It is a time when people are searching for quality banquet facilities out of Colombo,  at affordable prices. 'Raffles 'is an ideal example of such a place."
'Tony's Recipes', a Sarasavi publication, is available at Sarasavi Bookshops at
Rs 2500.