A much looked forward to concert
View(s):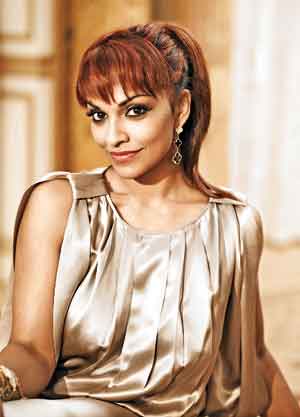 Next Saturday, February 10, the BMICH will see an international star take the stage when soprano Danielle de Niese performs for a local audience, her concert 'Celebrating 70 Years of Independence with Danielle De Niese' perfectly timed to resonate with this milestone occasion.
She has only been here once before but her Burgher parents had their roots here and though she herself was born in Australia, local fans have been following her prowess on the international stage with great pride and interest. The sultry star who began singing at the age of three, trained initially by her mother Beverley soon caught the public eye.
Much in demand, her recent appearance in Opera Australia's production of Lehar's Merry Widow attracted rave reviews. "The night belonged, however, to returning Australian soprano Danielle de Niese as Hanna Glawari who exuded a telling joie de vivre from beginning till the final curtain. With a swag of international successes in major opera houses, de Niese looked brilliant throughout and displayed outstanding stagecraft skills which convincingly set the tone for the production's flirtatious high spirits. De Niese's famous show-stopping aria Vilja was poignantly sentimental and nostalgic," said the reviewer from the  Performing Arts Hub (November 2017).
Her Colombo concert is presented by the Colombo Cultural Hub Trust headed by Mano Chanmugam, in collaboration with Dilmah and Qatar Airlines on Saturday, February 10 at the BMICH at 7.30 p.m. The concert is sponsored by the Wijeya Group, Colombo Jewellery Stores, First Capital, Coffee Bean, Sri Lankan Airlines, East India Holdings, Publicis, Jetwing Travels and the Hilton Colombo
Tickets are moving fast. The box office is at the Lionel Wendt theatre with tickets priced at Rs 7500, 5000, 3000, 2000, 1500 and 750.