A good teacher makes all the difference: Prince Edward
By Tarini Pilapitiya
Prince Edward and Countess of Wessex visit Third Space Global
View(s):
Arriving on a quintessentially humid day in Colombo on January 31 at the Bellatrix Building of Orion City, Prince Edward, the Earl of Wessex, the youngest son of Queen Elizabeth II and Prince Philip and the Countess of Wessex, received a warm welcome.
Here representing the Queen at the country's 70th Independence anniversary celebrations on February 4, the visit to Third Space Global, a British owned establishment which employs Sri Lankans to deliver online one-to-one teaching to more than 6000 primary school children across the UK via a virtual classroom was an indication of the Royal couple's keen focus on education and the development of young people. Third Space Global unveiled their new mission statement on the occassion.
Enthusiastically welcomed by Third Space Global's CEO Roshan Nilaweera along with CEO of Orion City Jeevan Gnanam, the Earl and Countess were given a tour of the Third Space Global's recently opened office space at Orion City allowing them to interact in a virtual classroom which was conducting a maths lesson with primary students in the UK.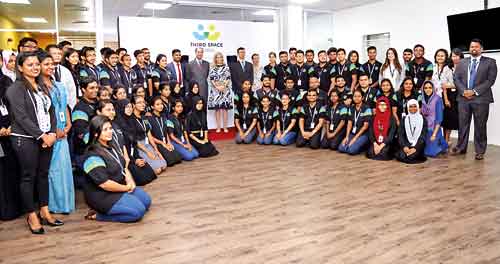 "Today marks a very exciting chapter for Third Space Global" Roshan stated. "We at Third Space Global seek social change by building a global community of the most ambitious talent to make better online teaching available to more students than ever before," he said.
Commenting on the limitations on educational systems worldwide Prince Edward said,  "the lack of respect to the profession of teaching may also be a contributory factor to growing educational problems."
Encouraging society to "maintain that respect for the teaching profession" and to create awareness on how important the availability of a good teacher is, Prince Edward went on to add that many need to understand that "the difference a teacher can make in a young person's life" is both extraordinary and impactful.