Sirimavo Bandaranaike and Piliyandala Central emerge overall winners
Inter-Schools Swimming Championship 2018
View(s):
The curtain came down on a successful Vidudaya Ritzbury Inter-Schools Swimming Championship 2018 at the Sri Jayewardenepura University swimming complex with Sirimavo Bandaranaike Balika Vidyalaya, Colombo and Piliyandala Central Swimming Club emerging Overall winners in the Girls and Boys segments respectively.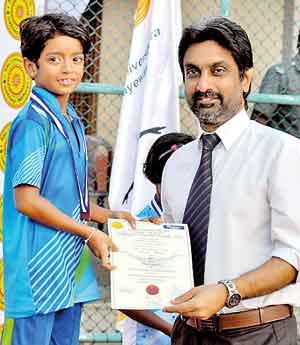 In the Girls' category Sirimavo Bandaranaike BV with a total of 507 points carried away the champion's trophy with Piliyandala Central Swimming Club with 250 and Anula Vidyalaya, Nugegoda with 236 points occupied the second and third positions.
Piliyandala Central Swimming Club with 328 points clinched the Overall championship in the Boys' section was closely followed by Zahira College, Colombo with 315 points finished second while C.H. Swimming Academy finished third with 217 points.
Sirimavo Bandaranaike dominated the waters by emerging winners in the Senior and Junior in addition to their Girls' Overall Championship while Piliyandala Central Swimming Club clinched the Senior Boys title.
M.M. Ekneligoda, the Under 9 swimmer from C.H.Swimming Academy stole the limelight at the meet for his performances in winning all the events he took part and his smooth technique and his extra ordinary talents. This youngster signaled that a bright future lay ahead as a swimmer in years to come.
– Lakshman Ranasinghe; Pix by Ranjith Perera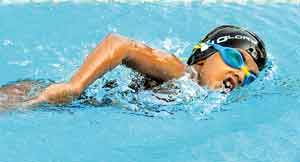 Final Results

 Boys' Overall winners – 1. Piliyandala Central Swimming Club (328); 2. Zahira College, Maradana (315) 3. C.H. Swimming Academy (217)
 Girls' Overall winners – 1. Sirimavo Bandaranaike BV (507); 2. Piliyandala Central Swimming Club (250); 3. Anula Vidyalaya, Nugegoda (236)
 Boys' Senior winners – Piliyandala Central Swimming Club (253); Zahira College, Maradana (167); 3. Dharmasoka College, Ambalangoda (163)
 Girls' Senior winners – Sirimavo Bandaranaike BV (169); Kalutara Balika Vidyalaya (147); P{iliyandala Central Swimming Club (117)
 Boys' Junior winners – C.H. Swimming Academy (203); Zahira College, Maradana (148); Piliyandala Central Swimming Club (75)
 Girls' Junior winners – 1. Sirimavo Bandaranaike BV (338); C.H. Swimming Academy (163); Anula Vidyalaya (154)
 Age Group Champs – Boys': Under 9 – M.M. Ekneligoda (C.H. Swimming Academy); Under 11 – Sasmitha Wattarantenna (Aqua Style Swimming School); Under 13 – Shehan Siriwardene (Piliyandala Central Swimming Club); Under 15 – N. Sajaa Ahamed (Zahira College, Maradana); Under 17 – S.D.S. Delon Fernando (High Techniques Aquatic Club); Under 19 – S.N. Dissanayake (Dharmaraja College, Kandy)
 Girls': Under 8 – Limandee Tushanya (C.H. Swimming Academy); Under 11 – Sanaya Nanayakkara (Anula Vidyalaya, Nugegoda); Under 13 – Ridmi De Silva (Sirimavo Bandaranaike BV); Under 15 – Anarkali De Silva (Dharmasoka College, Ambalangoda); Under 17 – Medani Panagoda (Rainbow Aquatics); Under 19 – Divyanjalee Prabha (Kalutara Balika Vidyalaya)