Katharine Norbury: A personal journey that became a public one
View(s):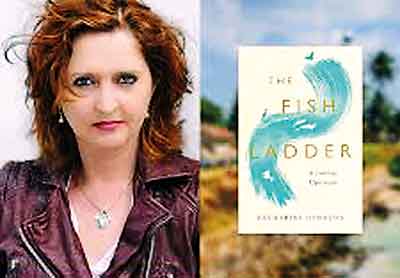 Katharine Norbury decided to write The Fish Ladder the summer she and her nine -year-old daughter Evie decided to follow a river from the sea to its source. In a Q&A with the Global Education Network, Katharine spoke frankly of the obstacles in the way of this endeavour – not the least of which was that she had just had a miscarriage and had subsequently been diagnosed with a rare and aggressive form of breast cancer.
"Obtaining a family medical history became significant, as it was vital to know if the cancer was hereditary. But I had been abandoned in a Liverpool convent as a baby, and later adopted, so this history proved challenging to obtain," she told journalists, explaining that although she eventually traced her birth mother, there was no "fairytale reunion," nor did she have some of the fundamental questions about her own identity and that of her father, answered.
At first, the book that she was writing was simply meant to be a record of the journey with Evie. She imagined it bound with twine and covered in leaves and bits of shell that they'd found together. However, Katharine found being diagnosed with cancer changed everything.
In an interview with the Wales Art Review, she said: "I came to realise that the book had overflowed its boundaries. It had become something that might have a more public voice, because much of the ground that it covered was common ground. (1 in 5 pregnancies end in miscarriage, 1 in 8 women develop breast cancer, 1 in 3 of us develop cancer, 1 in 4 are affected by some kind of mental illness, 1 in 4 are affected by adoption in some way, all of us, if we're fortunate, bury our fathers)."
It also became increasingly challenging to maintain a kind of objectivity, because she was writing about things as they happened. "At that point the writing did become difficult, because the events about which I write in the second part of the book were happening even as I was writing them, and it was difficult to maintain an emotional distance from, for example, chemotherapy, or the search for my "birth" mother. It was especially difficult to write with any semblance of a neutral voice about my mother so I had to draw on a very deep discipline, which I suppose is the discipline of being a writer."

Laced through the book is Katharine's great love of nature writing. The Fish Ladder, which was her book, reflected this passion and immersion in the natural world. It was longlisted for the Guardian First Book Award, the 2016 Wainwright Prize and was a Telegraph Best Book of the Year, 2015. Katharine was chosen as one the Observer's Rising Stars in non-fiction, 2015.
Today, the author who was also trained as a film editor with the BBC and has worked extensively in film and television drama, lives in London with her family.
She is already at work on her next book, which combines "travelogue, memoir and a meditation on the English Circus, a community living closer to the natural world in one season than many of us are likely to get in a lifetime," she says, adding, "At another level it explores our ideas about place and our attachment to certain landscapes."