Johann tries again with a little help from you
Donate towards his second attempt to climb Mount Everest by buying a pin for Rs. 100
View(s):
After months of gruelling training, time and effort, the summit of Mount Everest looms ahead of you – just 450m away. Suddenly, your oxygen mask malfunctions. The bodies of those who tried to achieve this feat just a little too hard lie behind you, and yet the object of your dreams lies just ahead – a mere 450m away. What would you do?
This impossibly difficult decision was what mountaineer Johann Peiris faced, and unlike many of those who died trying, he made the correct decision and turned back. That was 2016. Now he is planning to try again. The recently launched 'Climb with Johann' campaign is set to help him reach the summit this time. The journey costs USD 58600 (9.1 million LKR) and the campaign will raise the amount 100 rupees at a time.
Anyone who wishes to donate can buy a pin for Rs. 100 which will represent one step in his journey. The cost includes everything needed for a successful climb: logistical support, food, oxygen and many other amenities which will be provided by International Mountain Guiders – a company which has conducted many successful expeditions to Mount Everest.
Jayanthi Kuru Utumpala, the first Sri Lankan to climb Mount Everest explained the harsh realities of the climb. "Camp Four, the highest camp on Earth, is located at the death zone. This is called the death zone for a very real reason because at this height your body begins to die due to the very low pressure in the air. Just one mistake can cost you your life. It is during this final journey that anything can go wrong, and sometimes they do go wrong, and so it was for Johann in 2016, when his oxygen mask began to malfunction.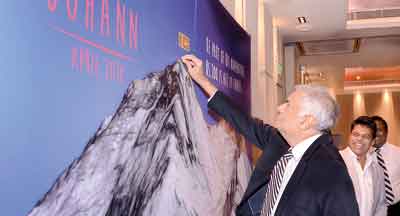 "With only 450m to the top of Mount Everest, Johann had so much courage to make the right decision. For me Johann is a hero because he had the courage to turn back when his life was in danger," she says.
Johann Peries explained his desire to try again. "People kept asking me why did you go back? I think people who are passionate about doing things always want to achieve their goal and finish what they started, and that's what it is for me. I know that I am ready," he says.
Prime Minister Ranil Wickremesinghe, who purchased the first pin, asked people to support this venture. "I call on everyone in Sri Lanka to help support this bid for the second Sri Lankan to get on Mount Everest," he said.
Those who wish to support Johann can donate by visiting his website at  http://www.johanneverest2018.com/