Play House to start a Programme in Acting
View(s):

Lanka Children's and Youth Theatre Foundation (LCYTF) popularly known as Somalatha Subasinghe Play House is to start a Diploma in Acting programme for those who are interested in studying drama and becoming theatre artistes.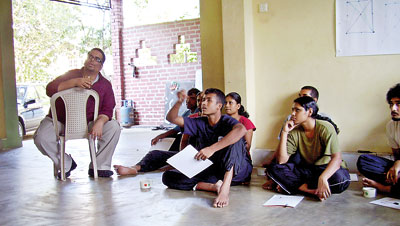 The programme entails all round training such as acting, script writing and analysis, directing, movement and vocal training. For over 35 years, Play House Kotte has been training numerous talented youths who are at present engaged in the work of both theatre and the film industry at professional level in Sri Lanka. The duration of the programme is six months. Within the period, twenty-five in class sessions will be conducted on a weekly basis. There will be one or two sessions per week mostly on Saturdays, Sundays and/or other public holidays.
The primary focus of the course is on acting, directing, script writing and dance theatre. Thus, the participants will have the opportunity to learn free and structured movements, posture, body flexibility and physical balance, vocal training, pronunciation, voice projection, directing and script writing such as character analysis, improvisation, plotting scenes, etc.
The programme will be conducted by internationally awarded actress and theatre director Kaushalya Fernando and young theatre artiste Prasanna Mahagamage.
Kaushalya and Prasanna are experienced artistes in theatre training and teaching in Sri Lanka with international exposure.
The programme is scheduled to commence in early February and the application and details of the programme are now available on www.playhousekotte.org or facebook/Playhousekotte.org. More information could be obtained by writing to The Coordinator, Somalatha Subasinghe Play House, 166/1, Parliament Road, Kumbukgahaduwa, Kotte 10100 or calling 075 9858001, 075 9858002 for more information.