Cranberries' lead singer Dolores O'Riordan's memory will linger
View(s):

Dolores O'Riordan the lead singer of the Irish rock band The Cranberries has died at a London hotel on 15th January. The band were exponents of alternative rock, Celtic rock and dream pop. The Cranberries rose to fame with song 'Zombie' in 1994 which became a kind of anthem for rock music fans the world over. Other hit songs for them included 'Linger' in 1994, 'Salvation' in 1996 and 'Promises' in 1999. The band had sold over 40 million albums. Dolores was the mother of four teenage children.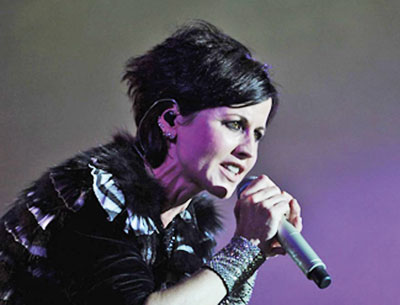 Days after it was reported that Lana Del Rey was facing legal action over the song 'Get Free' , the band Radiohead's publishing company issued a denial about legal action but admitted they were trying to negotiate writing credits to the song. It is alleged that Lana Del Rey's song 'Get Free' sounds similar to Radiohead's 1992 hit song 'Creep'. Rey was so up she even cancelled some live shows which according reports were the controversy.
Eric Clapton is known as "slow hand" for his style as a guitarist and is considered to be one of the world's 10 best electric guitarists. But now the 72 year old legend is going deaf as he is said to have got tinnitus – a nervous disorder. Reports say Clapton has told BBC radio that he was in pain for over a year having to cancel several shows. His nervous system was being damaged as he was diagnosed with peripheral neuropathy. Clapton has been a performer since 1962. He has released 23 albums, 26 singles and 14 live albums. A winner of several accolades including Grammys awards, Brit awards, Ivor Novello awards and recipient of a CBE, Eric nevertheless is not hanging up his guitar just yet. He plans to perform at the British Summer Time Festival at London's Hyde Park in July. A documentary called Eric Clapton: Life In 12 Bars, directed by the Oscar winning Lili Fini Zanuck will air on Showtime on 10th February.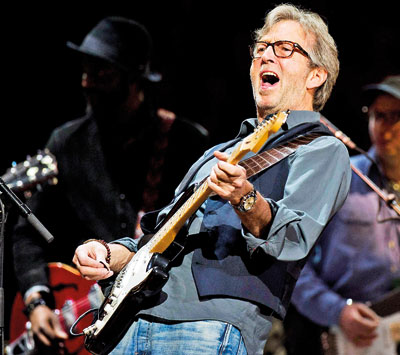 Ed Sheeran's 'Perfect' is still top of the pops in the UK as the song is No: 1 on the singles chart for a sixth consecutive week. Also holding on at No: 2 is Eminem with his single 'River' for a second week where Sheeran is the featured vocalist.
Bruno Mars debuted his new single 'Finesse' at the No: 7 position on the UK chart. The funk/ new jack swing features US rap artist Candi B and is taken from his album '24K Magic'. The album version though does not feature Candi B. 'Finesse' is second track from the current album to reach the UK top 10 and takes his total 10 hits in the UK to 7 where he is the lead artist.
Craig David is back on the UK top 10 singles chart after three years with 'I Know You' climbing the chart from 15 to 10. The track is the debut release from David's forthcoming album 'The Time Is Now'. The song also features the indie band Bastille who are back on the UK top 10 since 2013. The popularity may have been generated by live performances on TV show such as Sounds Like Friday Night, Strictly Come Dancing the Top Of the Pops – New Year's Eve Special.
TW LW
1 1 Perfect – Ed Sheeran
2 2 River – Eminem ft: Ed Sheeran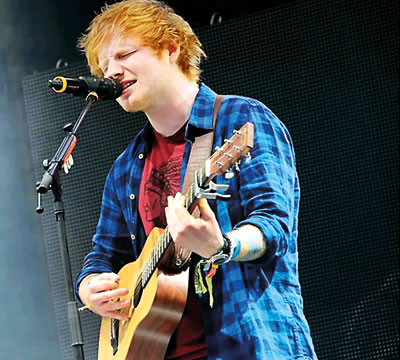 3 4 Anywhere – Rita Ora
4 8 Barking – Ramz
5 6 I Miss You – Clean Bandit ft: Julia Michaels
6 10 Let You Down – NF
7 – Finesse – Bruno Mars & Candi B
8 7 17 – MK
9 3 Man's Not Hot – Big Shaq
10 15 I Know You – Craig David ft: Bastille