Chiranthi's mixed bag of not too 'sweet' and not too 'sour' stories for all
By Kaveesha Fernando
View(s):
Many writers can attest to the difficulties they face in keeping stories brief. Not so Chiranthi Rajapakse. "Usually it's writing three pages and trying to develop it further," she laughs, adding that her admiration for writers who can convey a lot in a few words probably drives her own writing style. Having collected many stories over the course of eight years, Chiranthi launched her first book titled 'Names and Numbers' last week.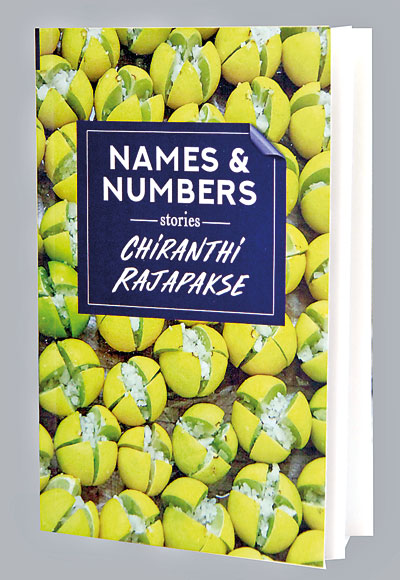 'Names and Numbers' is also the title of one of the short stories in the book, we learn. "The story is about a girl who goes to a visa office but it also brings up racial tension, politics and the issues related to the different social classes," explains Chiranthi. The cover of the book depicts the quintessentially Sri Lankan lunu dehi, which Chiranthi feels is befitting because the stories in the book evoke a mixed bag of emotions. "They're not exactly sweet, they're not exactly sour," she quips. The stories have different themes, explored by Chiranthi based on what interested her at different times in her life.
In fact, there are many experiences and events which would have undoubtedly piqued Chiranthi's interest from her experiences in life. Having been born and raised in Kandy, she attended Girls' High School, studied dental science in university and worked at a dentist's office. Realizing that she preferred writing to dentistry, she decided to start working at a nongovernmental organisation, where she developed an interest in law. While studying and upon completing her degree she has worked in many places which complemented her interests in law and writing.
A typical short story takes Chiranthi about a week to write because she only writes for a few hours before work. She feels that while different writers may succeed with different techniques, writing a bit every day is the best method for her, especially because she is able to review and edit her work bit by bit and harness the story well.
While she hopes to write a novel in the future, she likes writing short stories because they fit her style and interest her. "I think there's something about a short story because in a restricted number of words you convey a little incident," she says.
She says she has found the editing process at Perera Hussein much smoother than most writers because she keeps writing and rewriting on her own and likes the process of honing a story to what it finally becomes. "I think the first draft is actually the hardest for me," she laughs.
The future seems interesting for Chiranthi who says she will definitely keep writing and might even consider becoming a full time writer in the future. "Hopefully it will be a novel or a longer piece but definitely I'll be writing something," she says. She hopes her stories are enjoyed by her readers but also that they evoke emotions. "I hope they enjoy reading them but I also hope it gives them something to think about," she says.
'Names and Numbers' is priced at Rs. 600 and is available at the Perera Hussein website https://pererahussein.com/index.php/books/short-stories/names-numbers-phph.html , Barefoot, Vijitha Yapa and Sarasavi and other selected bookstores.