Fairway Galle Literary Festival 2018 Events for Children
View(s):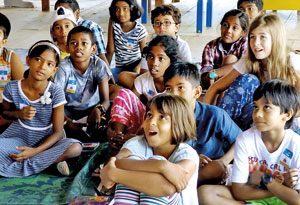 The Children's Programme for the Fairway Galle Literary Festival 2018 will take place on January 27 and 28 at the Thomas de Gall School in Galle. The events consist of a variety of activities designed for four age groups: 3 – 5, 5 – 7, 8 – 11 and 12+.
'The programme for 2018 will explore different storytelling methods from cultures around the world such as Sri Lanka, Japan, Africa, Europe and the UK. The focus is on giving young people a lot of practical experience in creating their own work, using a variety of forms such as poetry, prose and drama.
The 3 – 5 age group will work with early learning specialists Jessica Mason and Seema Omar on stories provided by Think Equal, a global social and emotional learning programme initiated by BAFTA award winning producer/director Leslee Udwin. Fulfilling our obligation to the 2004 World Programme for Human Rights Education, Sri Lanka is the first country in the world to have piloted Think Equal's learning programme and the FGLF is delighted to feature their work as part of the Children's Programme.  These sessions are open to children and their parents. Participants in this age group will spend time in play while  engaging with the story of 'Wally The Wave' as he tries to understand his emotions.
Featured events for the 5 – 7 age group include a session with award winning German author and illustrator Ute Krause, who will share a story about a young culinary genius in 'Oscar and the Very Hungry Dragon'.
In author Tahira Sheriff 'ssession, participants will meet the adventurous 'Mariah The Wanderer' who finds out what it means to connect with people who are different from her. This age group will also be introduced to the African tradition of Call and Response, and explore the adventures of Sri Lankan folk favourite Mahadena Mutta.
As the focus of this year's programme is on practical experience, children will also create their own puppets in a session conducted by drama-therapist Tehani Chitty and perform short puppet plays for their parents at 2 pm on the 28th.
This year, the children's programme with also have a bookstall with titles available from the featured authors Ute Krause and Tahira Sherrif. Ute and Tahira will be signing books for children at 2.30 pm on the 27th and Ute will do the same after her session on the 28th.  In addition, the bookshop will also have a range of children's writing for sale from the Milk and Honey Cafe and Think Equal.
"We are particularly happy to say that the Think Equal range of books includes 'The Girl Who Climbed The Highest Mountain', which is the first illustrated children's book based on the life of Jayanthi Kuru-Utumpala, the first
Sri Lankan to climb
Mount Everest", states
Tracy Holsinger, Coordinator of the Children's Programme.
For more details on the programme and its facilitators please visit
www.galleliteraryfestival.com
To purchase tickets visit
online @ mydeal.lk
or drop in at our box offices in Colombo – Mydeal.lk, 740, Galle Rd, Colombo 04
or Galle – Barefoot, 41, Pedlar Street, Galle Fort.