#TagsThat Shaped2017
By Purnima Pilapitiya
View(s):
In August 2007, social technology expert Chris Messina was experimenting on ways to simplify chat platforms. On a whim he tweeted "How do you feel about using # (pound) for groups. As in #barcamp [msg]? " and sparked a movement of #prefixed words that grew to over 125 million a day in less than a decade. Hashtags have stamped themselves into new age vocabulary, their power reaching across social media platforms to activism, politics and practically any arena in which we possibly sneak them in. #love may have been the most used hashtag for 2017 but let's look some of the iconic hash tags that the shaped the last year.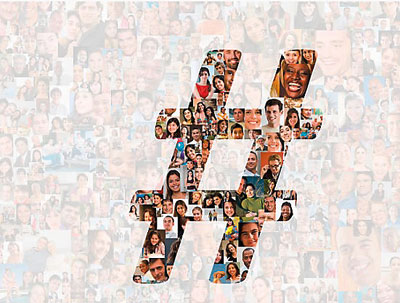 #FloodSL
The power of the Hashtag was felt in Sri Lanka during the disastrous floods that affected thousands in May last year. In the thick of the chaos #FloodSL allowed people to consolidate information, raise awareness and provide the much needed assistance thanks to social media and a proactive public. the inspiring movement found people from all over the country joining together to raise funds and organize distribution campaigns, echoing Messina's original objective behind the hashtag.
#womensmarch
In 2017 Donald Trump was introduced to the USA as its new President but he had a surprise of his own- a year long string of tweets and hash tags that would set media in a frenzy and occupy a few spaces on our list as well.
Following his inauguration in January, thousands of women flooded the nations' capital on the first full day of President Trump's tenure. What began as rally across America soon found over 2 million people showing their solidarity from across the USA to the United Kingdom, Europe, Africa and even Iraq. Drawing together activists, first time campaigners, musicians, artists and celebrities the movement was initiated by Teresa Shook, a retired attorney in Hawaii who created a Facebook event page calling for a march on Washington after Trump's inauguration.
#covfefe
In late May, President Trump took to his official Twitter handle once again to share his regular political updates, reminding us how important spell checking is and draw in a global community of trolls and meme kings (and queens).
On May 31, just after midnight, the President tweeted "Despite the constant negative press covfefe". According to CNN, by 4.00 a.m. the unfortunately misspelled tweet gained over 108,000 retweets and 135,000 likes.
"Covfefe" (pronounced "cuv-fey-fey") , a misspelling of "coverage" was left for more than six hours before being deleted. The mistake however was embraced by social media becoming a #1 trending hashtag and inspiring a slew of jokes, slurs and of course memes, including an existential tweet by the President and former White House press secretary Sean Spicer who maybe one of the select few who are permitted to know its true meaning.
#MeToo
The powerful movement was born amidst the allegations of rape and sexual harassment by Hollywood film-maker Harvey Weinstein which through a domino effect exposed several other high profile predators and sparked a movement that is bulldozing its way into 2018.
The global movement initially began through American activist Tarana Burke in 2007, but was rekindled last year as a hashtag #MeToo and has since become a global movement against sexual violence and abuse and is encouraging men and women to share their stories of abuse and harassment. It was followed into the new year with new movements such as #TimesUp and an almost entirely black red carpet at the Golden Globe awards as celebrities donned the singular colour to raise awareness and reveal hints of a powerful future for the movement.