Classical Guitar Concert
View(s):

After an overwhelming response at his Sri Lanka debut a year ago, Aditya Gandhi is back in Colombo with a full length solo concert at the Russian Centre on January 20, 2018.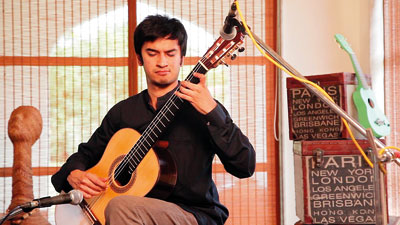 This concert is a display of the variety of cultures and styles around the world: presenting music from Latin American countries, Africa, Scotland and France to name a few.
Titled 'Solidarity with Cuba and Venezuela', the concert will focus on the Cuban work El Decameron Negro (The Black Warrior) by Leo Brouwer and Venezuelan Waltzes by Antonio Lauro. He will also perform some audience favourites from his last visit to Sri Lanka such as 'Out of Africa' and 'Sueno en la Floresta'. Like all his concerts, the music is presented in a very accessible manner, with narratives (and humour) to accompany the musical storytelling.
Aditya Gandhi is a graduate of Royal Conservatoire of Scotland, and the Chicago College of Performing Arts under world renowned guitarist Denis Azabagic. He has performed across India, Sri Lanka, Scotland and the United States. Most recently, he was touring across India with a series of solo concerts. He is revisiting Sri Lanka after being a part of Guitar Fest 2017, which saw him performing seven concerts.
Log onto www.adityaguitarist.com for more details.