Sira epitomized Sri Lanka Football psyche!
View(s):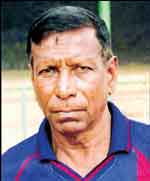 On Thursday, 21 December, as the evening shadows turned into darkness, Sri Lanka's football legend P D Sirisena, fondly known as Sira or Sirisena Master was laid to rest within the confines of the Kanatte cemetery.
Subhani Hassimdeen, former national football Captain and team-mate eulogised this rare human being in a poignant discourse of farewell in last Sunday's Sunday Times feature, placing Sira among the immortal footballers of Sri Lanka. My own memory is of an elegant striker moving towards goal with feline grace in an era when Sri Lanka was able to hold its own among the football nations in Asia. His outstanding contribution to Football as a player, coach, administrator and virtual custodian of the Saunders Sports Club is unmatched and will always be remembered by those in this country who love the sport and pray for its revival.
To me, Sira more than anyone else, resembles the glory and the agony of Sri Lanka Football. He epitomized the sheer artistry of his trade, playing and leading the nation in many internationals. When he retired as a player he moved seamlessly into coaching and his legacy is replete with many young footballers whom he raised and groomed in Price Park, the football citadel in the heart of the Pettah marketplace. Hopefully, it is these kids who will one day carry Sri Lanka's football fortunes!
However brilliant Sira was, football does not confer honour or comfort to its exponents in this country. These selfless people are left to lament in a sport which has been overrun by opportunists. At the end of the day the footballer has nothing to show for his prowess, except the specter of pain and poverty. Yet, Sira strode through this firmament like a colossus to the end.
May the turf lie lightly over him! May he look down from heaven above and guide Sri Lanka Football to a better tomorrow.
Trevor Reckerman  Former FFSL Secretary General