Colombo's changing skyline to dazzle South Asia
View(s):
Tear drop to get bigger and better
Forget the changing skyline. Colombo's Port City will have mapmakers in a tizzy as they hurry to re-draw the shape of Sri Lanka. This is the massive scope of the multi-billion dollars' project which has drawn controversy as well as admiration. When it is fully completed, in 23 years from today, the tear drop island will have changed forever.
For off the West coast, Colombo will have grown an extension with a new city rising from the water like Plato's Atlantis. It will be at the heart of the Western Megapolis, the government's vision to turn Sri Lanka into a high income global player in logistics, manufacturing, and information technology.
It will be a vibrant Central Business District and at the same time be a much-sought after residential address that will foster a healthy living environment. And lastly, it will be the jewel in the crown of China's 21st Century Silk Road, the One Belt One Road dream, turning Colombo into the epicentre of South Asia and hub of the superpower's trading network.
Thulci Aluwihare, recently-returned from Melbourne to head the Strategy and Business Development arm of CHEC (China Harbour Engineering Company) Port City Colombo (Pvt) Ltd, delayed his holiday with his young family to his hometown of Matale so he can meet me and explain the finer details of this new purpose-built city.
"Yes, they will have to re-draw the map of Sri Lanka," Thulci smiles. "There will be a massive transformation of the city."
And most importantly, it won't just be cosmetic changes, for along with a new-look, the country will acquire a new way of getting business done with the Government to introduce legislation to facilitate Colombo's transformation into an International Financial Centre.
"There will be a different set-up within the Port City, rules will be liberalised to create a structure to attract FDI (foreign direct investments) and promote the export of services," reveals Thulci.
"We will still have to adhere to Sri Lanka laws but it will be articulated in a way which makes it easy to do business. Initially this will be the place where the government will test its policies, and then replicated for the rest of the country. The government will set up the soft infrastructure, our aim (CHEC) is to provide the hard infrastructure, build a world-class city," he points out.
Transforming Colombo
Work is well under way on the first phase of the grand project with nearly 60 per cent of the 269 hectares site, reclaimed from the sea – to put it into perspective, when completed you can fit in around 350 soccer pitches in that area.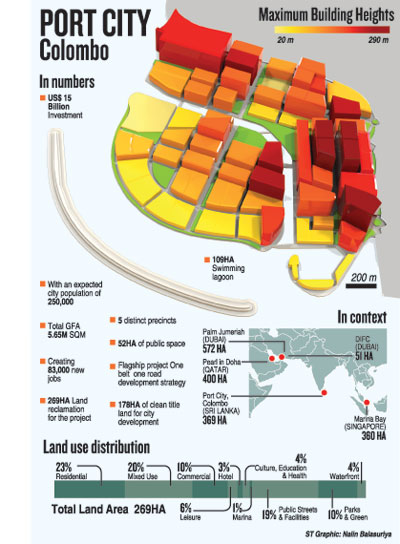 David Wang Hao is no Messi, rather he is the messiah, the man who is in charge on the ground, and getting things done. His name-card simply says 'Employer's Representative', which most probably in Mandarin-speak is trouble-shooter for CHEC, whose parent company CCCC (China Communications Construction Company) is a Fortune 500 conglomerate (ranked 110th) and China's largest government-owned infrastructure enterprise company. It is also listed on the Hong Kong and Shanghai Stock Exchanges.
David is in a dither. Just a few weeks ago, he saw all the hard work done by the three dredgers pumping sand to build the foundation go to waste. Cyclone Ockhi battered Sri Lanka leaving behind a trail of death and destruction. It also blew away several tens of thousands of cubic metres of sand at the fringes of the site with the sea reclaiming its own dredged offshore from approved areas.
"The storm swept the sand back into the sea and we were hit. But despite this setback, we are well on track and almost 60 per cent of the reclamation has been completed," explains David as he shows us around the sandy site dotted with long lines of massive rock and cement blocks which are used as part of the base for the foundation. When office towers at the International Financial Centre or residential blocks go up, the foundations will dig deep into the sea bed.
The reclamation cost is US$1.4 billion. The total estimated cost of investment for the project which will comprise 178 hectares of land for development, is $15 billion. South Asia's most livable city – already Colombo is ranked at the top – will be a PPP (public private partnership).
The 269 hectares is split with CHEC Port City getting 116 hectares or 43 per cent of the land on a 99-year lease with the rest held by the government. Of this latter portion 91 hectares is set aside for common areas (parks, roads, waterways etc.) with the government having 62 hectares for development. Along with CHEC's 116 hectares it adds up to 178 hectares.
Private enterprise can pitch for plots early next year. A sales gallery/office designed by famed Sri Lankan-born architect Cecil Balmond is under construction. All interested parties will have to adhere to the masterplan and build within these parameters. There are five precincts – Central Park Living, Financial District, International Island, The Marina and Island Living – to choose from for investors each offering a fine urban grain, tailored for its planned use.
"Each plot has a masterplan where specifications are set with design-control-regulations (DCR) so any developer who purchases these plots will have to adhere to them and the masterplan. This will include facets like height restrictions and certain development guidelines," Thulci clarifies.
"When fully completed, there will be 5.65 million square metres of built-up space. If you want to compare this with the biggest private sector development at the moment, Cinnamon Life will have 400,000 square metres, so you can see the scope of our project," he adds.
Massive office space
Port City will offer 1.5 million square metres GFA (gross floor area) of office space. Colombo presently can offer only around 300,000 square metres with another 200,000 under construction. "Ours will be three times bigger," smiles Thulci. These boys like to flaunt their size.
Everything from an international school – already a few prestigious institutions have made enquiries – to an integrated resort and theme park (perhaps Disney?) will be built. A state-of-the-art hospital offering the best medical care will also be on the ground as will a Convention and Exhibition Centre, plush 5-star hotels and a Marina, the first in Sri Lanka offering berths, around 150, to moor your luxury yachts.
David drives past rows of temporary housing for the workers which number around 1,200, a quarter of them Chinese, and points to where a two-kilometre beach will be built fringing the largely residential Island Living precinct. Luxury villas will dot the long stretch of palm tree-lined white sand and this will be a much-desired address for the affluent.
The icing on the cake will be the ease with which you can get about. Port City will be predominantly a green environment with limited vehicular use fostering a healthy lifestyle – most people who work at the international financial centre or say the school or hospital are expected to live in one of the 21,000 residential units ranging from villas to high-rises – there will be a smooth connectivity with the rest of Colombo.
The government's Megapolis will have seven LRT loops connecting Colombo with the suburbs. One loop from Pettah will extend into Port City offering a convenient accessibility.
"We are proposing to have five LRT stations strategically located so that from any location, there is only about a 400 metres radius from where you can walk to any part of Port City," Thulci outlines.
"Unlike other cities priority is given here for pedestrians and cyclists, with commercial vehicles at the bottom of the chain. It will be green, parks alone comprise 45 hectares which is about nine times the size of Galle Face Green. The Port City will be a big lung for Colombo."
Road connectivity will see the existing airport highway which has stopped at the Kelaniya bridge being extended to Port City. The Asian Development Bank has already allocated funds for the six-kilometre highway which is now in its design stages. Once it reaches the Port City, to ease traffic, the plan is to go underground and tunnel for about two kilometres under the Galle Face green and connect to Marine Drive.
250,000 floating population
The 75,000-strong population that will live on this new oasis in Colombo – the transient population is expected to reach 250,000 – will enjoy a sustainable lifestyle where emphasis will be placed on using resources efficiently and minimising energy demands. Rainwater harvesting, solar energy, wind power is among a few of the eco-cycle approaches that will be widely adopted.
When can we expect all this to materialise? The first plot which will break ground in the second half of 2018 will be in the Financial District, the Colombo International Financial Centre. This will be under the eye of CHEC which hopes to pump in $1 billion into this initial project.
"We have just got the nod from the Cabinet and we will commence work on this soon," says Thulci. Meanwhile David is focused on getting the reclamation work completed, by 2019, fingers crossed that no more tempestuous storms come knocking on our doorstep.
Other key dates in the timeline are 2020 for the completion of the initial infrastructure works, 2021 for the beach, Marina and Central Park, 2023 for the Financial District, 2024 for the international school, 2025 for the first hospitality plot, 2026 for the medical centre and Convention and Exhibition centre. The end game will be reached in 2041. The mapmakers better get ready then.