Solve burning issues before enacting Constitution: Malwatte Anunayake
By L.B.Senaratne
View(s):
The Malwatta Chapter Anunayake Thera, the Venerable Dimilkumbure Vimalbuddhi, has questioned the government's efforts to bring in constitutional reforms when it has failed to enact the amendments to the Buddhist Temporalities Act.
Speaking at the Keppettipola Commemoration ceremony held this week, he said there were many burning issues which needed to be sorted out before a new constitution was enacted.
"Keppetipola fought the British for a united Sri Lanka, but today we are unable to come to any agreement on important issues. How can the Government go in for a new constitution when it has not been able to bring about amendments to the Buddhist Temporalities Act?" he asked.
The ceremony held at Maha Maluwa before the Keppetipola Memorial was orgnaised by Diyawadana Nilame Pradeep Nilanga Dela to mark the 199th year since Keppetipola's execution by the British on November 26, 1817
Pansil was administered by the Anunayake thera and an Anusasanawa was delivered by the Ven. Panditha Niyangoda Vijithasiri Anunayake Thera of the Malwatte chapter and the Ven. Panidtha Anamaduwwe Dhammadassi Anunayake Thera of the Asgiriya chapter.
The last religious rite of offering Panskula was arranged by the descendants of the Maha Nilame Keppetipola, while Police performed a guard of honour.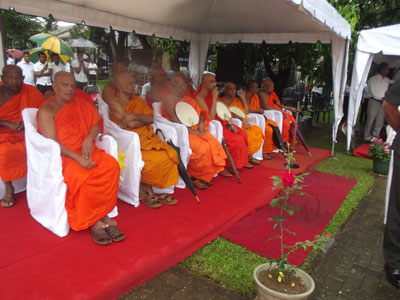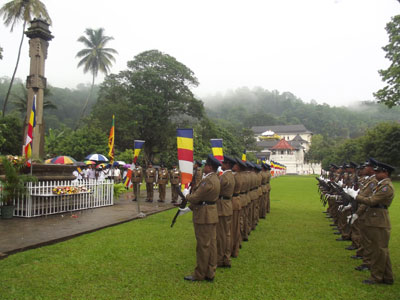 Buddhist prelates at the ceremony (left) and police performing a guard of honour