Fishermen caught between livelihood needs and the angry sea
The deaths of fishermen during Wednesday's storm raise questions on whether warnings come on time and in some instances even if they do whether fishermen heed them. Sandun Jayawardana reports from Dodanduwa
View(s):
Why didn't the Dodanduwa fisheries harbour receive a weather warning from the Meteorological Department or the Department of Fisheries before strong winds battered the country on Wednesday night?
The bodies of eight fishermen, who went out in their mechanized "vallams" that fateful evening, have washed ashore after the disaster. Four were from Dodanduwa and four from Hikkaduwa, both in the Galle district.
Some others were treated in hospital after defying choppy seas to swim back to safety. This is not the first time fishermen have fallen victim to disasters even though Sri Lanka is equipped to forewarn fishermen about them. And there are nagging questions: Does the fishing community not receive weather alerts in time? Or do some of them take the risk, notwithstanding adequate warning, in the struggle to earn their daily bread?
On Friday, a crowd gathered on the Godagama beach in Peraliya, where a body was lodged in the craggy rocks. Afraid that the rough seas would suck the body back, a few men tied a rope around it and pulled it out.
The Dodanduwa fisheries harbour, from where the deceased had set out, is the only one dedicated to the long, mechanised vallam canoes that usually carry two persons. Around 300 of them are moored there.
Unlike in harbours catering to multiday fishing trawlers, however, written records–such as departures and arrivals–are not maintained on individual boats or on their crew. Information on missing boats usually trickles down through fisher associations.
An estimated seven boats failed to return after Wednesday's winds, said Dodanduwa Harbour Manager S. S. Hettige. One later swept ashore largely intact, minus nets and equipment (its inmates also swam to safety). The debris from several others was found at different locations.
On Friday, the harbour notice board carried an adverse weather warning from the Met Department to fishermen that had been issued–as is the practice–through the Fisheries Department (it is conveyed also to the Fisheries Ministry).
Sometimes, however, the Met Department faxes warnings directly to harbours. These are pasted on the notice board which fishermen read before going out to sea, Mr. Hettige said. The warning is also personally conveyed to them when they come for the kerosene and ice issued to them.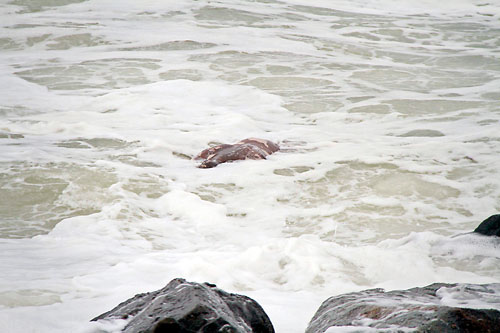 But there are problems in how warnings are communicated. The harbour office is open from 8 a.m. to 5p.m. "If a warning comes after that, we will not see it till the next morning," Mr Hettige explained.
Was there a warning from the Met Department on November 29? No, said Mr. Hettige. Officials did not find a fax when they came in on the morning of November 30; not from the Met Department, nor from the Fisheries Department.
An entry in the harbour log book notes that on November 30, the day after the disaster, harbour officials telephoned the Met Department's landline number 0112-431448 to ask why a warning had not been sent. An official named Tissera had replied that it was only around 8.30 p.m. on November 29 that the Met Department had fully grasped the severity of the winds. So no prior warning was sent to any fisheries harbour, the log entry–which the Sunday Times read–states.
There are other problems. For instance, some fishermen choose to ignore even the warnings that come in time. If the catch from the preceding days was good, they are more likely to set out because they are sure of a decent haul.
Some fishermen openly mock Met Department warnings, Mr. Hettige said. And vallams usually operate in shallow waters, leaving around 3 or 4 p.m. and staying out only for a few hours. "So they aren't that concerned about the weather," he said. "They feel they can return home before it hits them."
Conditions were fair on the afternoon and early evening of November 29, with no visible signs of approaching bad weather. Had warnings been conveyed via electronic media, some fishermen would have missed them as they would not have been watching or listening. Those who did would have believed they could outrun the bad weather.
Catches taken in the days leading up to November 29 had been poor. This had kept many fishermen home. "Had they been good, I have no doubt more than 100 boats would have been out there when the winds rose," Mr. Hettige said. "We would be looking at a worse disaster."
They did not even receive a phone call from the authorities on that fateful day, said Dodanduwa Fisheries Harbour Committee president G. M. Ravinda. "Even when I checked at 10 a.m. on November 30, a warning had not been received," he said. "Sometimes, the DMC (Disaster Management Centre) or others telephone us if the weather takes a turn for the worse. We did not get such a call at any point on November 29."
The Ceylon Fisheries Harbours Corporation has not repaired a halogen beacon situated at sea to guide fishermen back to harbour in bad weather, Mr. Ravinda said. The winds caused massive power failures. Vallam fishermen rely on lights on the shore to guide them home. "Those trapped in bad weather that night could see no lights," he narrated. "There was no power in those areas. It was while trying to reach land blindly in the dark that most boats capsized."
Both the Met and Fisheries Departments insist adequate warning was given. The former issued one at 2.30 p.m. on Wednesday, said Director General of Fisheries Christy Fernando. It had reached their office later that afternoon and spoke of heavy rains, strong winds and rough seas in the South and West.
This message was relayed via radio to the Fisheries Department's 22 regional offices, Mr Fernando said. They, in turn, conveyed it via radio to all fishing trawlers fitted with radios that were at sea. But it came too late for the fishermen who set out from Dodanduwa. "Vallams have no radios and we couldn't get a warning to them in time," he said. He was not certain if a fax had been sent to the Dodanduwa harbour.
Even when warnings are issued, fishermen ignore them, Mr. Fernando complained. Even after Wednesday's tragedy, the authorities had a hard time convincing fishermen to remain ashore till the weather cleared. "Will you feed our families?" they asked. "It's their livelihood and this is a complicated matter," he said.
"We need to do this to survive," Mr. Ravinda shot back. "But we would not have disregarded a proper warning. When the boats set out that day, the weather was similar to what had prevailed around the same time on previous days. It was cloudy and overcast but the seas were calm. There was nothing unusual."
Back from the sea with tales of ordeal
When we meet K Raja Kusum, he is trying to salvage what is left of his outboard motor. Not much is left of his boat. The 53-year-old has been a fisherman for 26 years. Before that, he was a soldier. He has cheated death three times already – once in the war, but twice as a fisherman after his boat capsised.

In June 2013, more than 50 fishermen died at sea in a storm. Raja and a fellow fisherman were in a vallam that capsized. He swam to safety. His friend drowned.

This week, he set out from Dodanduwa in his vallam around 5 p.m. with another fisherman. They were 5-6 kms out around 7.30pm when it started raining heavily with strong winds. About six other boats were nearby. He does not know what happened to them. He saw their lights for a while, before they disappeared in the waves.

"We did not have time to worry about them as we were struggling to stay alive," he said. The winds were too strong even for their outboard motor. So they couldn't turn back.

"We saw the lights of one boat behind us, trying to make it to shore," Raja recounted. "Then, its lights also disappeared. Our boat started to spin around. Then it overturned and we climbed atop. For a while, we saw the lights from the shore. Suddenly, they all went out. We clung onto the overturned boat and let the current carry us as far as it would go."

A fisherman of a capsized boat is in great danger of getting entangled in his own net. Raja and his partner also knew if they went too close to shore with the boat, they could smash into rocks. So they let go of the vallam and swam to shore.

Raja doesn't know how far he went but believes he was in the water for one-and-a-half hours before the waves carried him onto the rocks. "We had released the boat because we thought we were close to shore, but the current was so strong we had to struggle a lot longer to make it back," he said.

On land – 16.5km away from where they had set out – the police dropped them home. Raja says he would be lying if he said he hadn't known the weather might take a turn for the worse. "I heard on the radio that wind speeds may reach 50-70kmph," he admitted. "We had decided not to go but towards evening the sky became clearer, although it was still cloudy and overcast. We expected rain but we didn't anticipate the wind to be that severe. We need winds of 40-50kmph to go to sea. The seas here are calm in November and December. What happened was unusual."

The warnings in the media had been to "be vigilant". "For fishermen, there is a clear difference between telling someone to be vigilant and telling them not to go out to sea," Raja said, adding that he will return to fishing. "I'm not done with the sea yet," he smiled. "It let me escape twice. I don't think it will let me go a third time."

Rupasinghe Jayaratne emerged from the sea naked, the lone survivor of a three-man dinghy wrecked by severe weather. The 49-year-old had also set out around 5pm. The boat-owner had cautioned them not to go owing to possible bad weather. But the leader of the team – who had been a fisherman for 35 years – assured them it would be safe. He paid with his life.

Besides, the harbour notice board had no weather warning. When the winds hit, the team leader telephoned the boat-owner who told them to return immediately. Five minutes after they headed back, the lights on the shore went out. "There was no way for us to go back so we stayed at sea hoping the weather will clear," Rupasinghe said. A huge wave caused the boat to capsize. He went under and surfaced some distance away. This stopped him being caught in the nets.

He struck out in the direction of lights from vehicles on the road. He shrugged off his clothes. When he hit land, he had no idea where he was. He asked people at a bus-stop for help. He was in Kahawa. The navy took him home. His friends' bodies were found later.

Rupasinghe, too, said he will go out to sea again – not on a dinghy but on a multi-day fishing trawler.

(Additional reporting by Janath De Silva)