Discovering Negombo's hidden secret, Amagi Aria
By Oshani Alwis
View(s):
Encircled by the calm emanating from the lagoon beyond, a visitor would fall in love with the place at first sight. This is Negombo's hidden secret Amagi Aria, a four-star hotel located alongside the serene Negombo lagoon: one of the two properties of Amagi Hotels, the other being Amagi Beach in the Western coast of Marawila.
Previously known as  Amagi Lagoon Resort and Spa, Amagi Aria's new look boasts a brand new seven-storey wing comprising 43 deluxe rooms and four luxury suites to its existing 21 standard rooms and a fine dining seafood restaurant, Moya. The grand launch of the new brand is scheduled for early next year under the name "Amagi Aria" which means an everlasting song.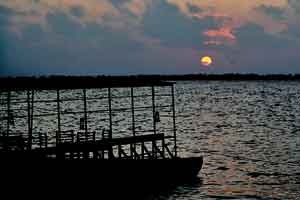 "Our efforts take a long-term aim at showcasing the value and inimitability of our wonderful island to the world, through our service and vision of becoming the most preferred hotel brands for locals and foreigners alike," says Chairman, Amagi Hotels Somanathan Ganeshanathan.
"Even though the product is of four-star we maintain a service level of five-star," General Manager, Marketing and Operations of Amagi Hotels Renuke Coswatte says.
Amagi Aria offers a comfortable range of guest rooms and suites with the magnificent sights of the lagoon, the city of Negombo, pool and the garden. The soothing setting is refelcted by the light-filled and cosy interiors of the rooms.
Amagi Aria's rooftop fine dining sea food restaurant Moya takes its name from the Sinhalese term for the place where the lagoon meets the sea. Being the ideal venue to taste a platter of exquisite seafood blended with authentic local flavours Moya overlooks the picturesque  lagoon and the evening sky above. Corporate Chef Sampath Maddewatte pairs the finest seafood with quality ingredients creating   mouthwatering dishes including mini fried crab cake, grilled salmon, chilled scallops and many more. Moya's signature desserts include mango panacotta with mixed berry coulis, fruit pavlova and lemon mint sorbet. Moya is open daily for dinner from 7p.m. to 11 p.m.
Other restaurants and dining areas of Amagi- Aria, include Catamaran, the all-day-dining restaurant, the Lawn Bar,while the Sunset Deck, in the lagoon shore, is specially designed for a candle-lit dining experience. The Pontoon serves as the hotel's floating restaurant and hidden among mangrove, lamps of bamboo hanging from the roof, the Tree House is ideal for private dining occasions.
Amagi Aria is the place for weddings with a wide choice of locations including the Grand Ballroom or the lagoon-front lawn and deck for an outdoor ceremony with the lagoon as the backdrop.  It is located just 10 minutes away from the Colombo International Airport.
Amagi Aria
640/82, Suhada Mawatha, Colombo Road, Kurana, Negombo.
For more information and reservation, visit www.amagihotels.com
To make reservations at Moya Seafood Restaurant call 0312238385-8.