"Designer Wedding Show' all decked to walk down the aisle
By Sinali Ranwala
View(s):
The Bride and Groom Magazine, Sri Lanka promises potential Brides and Grooms an unforgettable experience with the "Designer Wedding Show' 2017. The Bridal Couture show returning for the 8th time will be held at the newly opened Shangri- La Hotel, Colombo on November 28.
Ramping up the show will be the De Lanerolle Brothers who will provide vocal backing to the designer brides as they walk down the ramp.
Creations by Sri Lanka's leading bridal designers including Charith Wijesekera, Cheryl Goonerathne, Dhananjaya Bandara, Hameedia's, Michael Wijesuriya, Sarita, Nayana Karunaratne, MulEndum by Sumudhu Wasantha will be on show.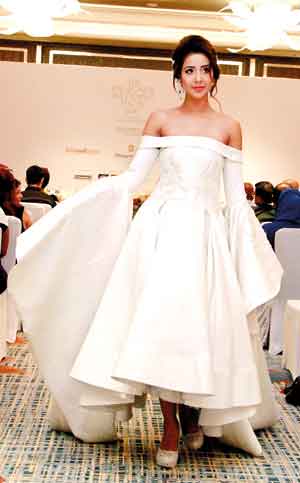 Speaking at the press conference held at the Spice Room, Vice-President and GM of Shangri-La Hotels  Colombo Timothy Wright said, " This event is eagerly awaited by brides-to-be. The Shangri-La ballroom can seat 1,500 and the Lotus Ballroom can seat 400. We think our lawn overlooking the Beira lake and the Indian Oean will be just right for events such as these. Having opened our doors only a few days ago we are thrilled to partner with Bride and Groom Magazine. Shangri – La has commitment to detail. We want for guests to have a preview of what Shangri – La can provide as a wedding venue."
"We are always looking for new experiences and The Designer Wedding Show will be a first for us. Bringing in new things is of great importance to us each time we take the stage, " said Ishan Lanerolle.
"Quality, creativity and passion are our main pillars as bridal florists," said Umanga Chandrasiri of Poru. Poru had a part in creating the flower decor showcased at the main entrance at the opening of Shangri – La, Colombo.
Mal- Key Rent- A- Car will be the official transport partner of the event, while Wijeya Newspapers, Real Radio and Dialog TV are media sponsors. There will be wedding gifts presented at the event from Sothys Estheti Centre and Noritake.
The 'Designer Wedding Show' will be at 6.30 on November 28. Tickets priced at Rs. 5000 and Rs. 8000, will be available at Ramani Fernando Salons and Yoland (Crescat). Tickets will also be available online at www.444.lk. To have tickets delivered to your doorstep call 0777 791681.