Appreciations
View(s):

One would need more than a fair knowledge of the Thesaurus to describe this gentle giant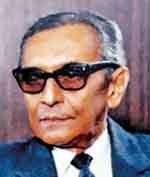 Malavige Tissaka Lal Fernando
I had the fortune of signing as an articled clerk under Malavige Tissaka Lal Fernando (A.C.A. England and Wales), aka 'MTL' and 'Lal', in May 1961, as my Principal. He had the proud distinction of being the first Ceylonese to be appointed as a Partner of M/s Turquand, Youngs & Co. (Chartered Accountants) a predecessor firm of Ernst & Young, until then dominated by Britons for many decades. The rest of the partnership comprised M/s.E.Turner-Green, T.W. Hardstaff and R.J. Barrow.
Thus I had the privilege of establishing an official relationship with a personality whom I now reckon is walking with the gods. This official relationship bloomed, am proud to say, to an eventual friendship that lasted until he passed away 48 years later, on August 14, 2009.It was the day, as the saying goes, a mighty oak had fallen.
This was a friendship between two unlike characters – a dignified, serene, unassuming, soft-spoken, professional personality and a 21-year-old bustling with excessive verve and vitality who had little time for Spicer and Pegler and/or the Foulks-Lynch tutorials together with the English telephone questions and answers. In effect it was the attraction of opposites.
The Institute of Chartered Accountants of Sri Lanka has recently initiated to posthumously honour members who have served during their lifetime rendering outstanding service to the profession and the country as distinguished Chartered Accountants. I have now taken this opportunity of paying tribute to my mentor, Principal, guide, philosopher and later friend, both in the office and outside. Very few, if any would object to this award being made by the Institute to a personality of such calibre.
One needs to have more than a fair knowledge of a Thesaurus to describe this gentle giant: dignified, refined, sophisticated but approachable and understanding,highly principled, statuesque, self-effacing, charming, always shying away from the limelight………. It goes on and on.
Mr. Fernando's unstinted services to the profession, especially during the formative stages of the Institute, have been, reportedly, appreciated by his contemporaries.He was the captain of a ship that had just begun to travel on unchartered waters. 'MTL' not only served as a Partner of the firm for 45 years – since 1966 – of which 35 years he was the Managing Partner. Having first joined the firm as a Qualified Assistant in 1956 he had the proud and unqualified distinction of serving the profession for 50 years!
No wonder it could easily be said that 'MTL' was primus inter pares et nulli secundus nulli secunda – first among equals and second to none.
'MTL' did not restrict his services only to the firm. His financial acumen and his very presence were highly sought by the mercantile sector and thus he was appointed to many Boards of Directors in listed companies. For instance, as a director of the Hayleys Group of companies, he served for over three decades. There is no doubt that his integrity and experience, and most of all his calming, gentle advice, must have served as a soothing balm when conflicts arose at Board levels. Indeed he was the Chairman of the Tax Committee of the Ceylon Chamber of Commerce for 30 years as well.
As his loyal Secretary RamyaWijeratne, in her tribute when 'MTL' completed 50 years of service to the E&Y group in 2006, wrote:
"………..……….we are so proud of you Sir for the manner in which you steered the ship for over 35 (as Senior Partner.MW) years being fair and equal to all. Leading by example you did instil in us the importance of maintaining the highest standards of integrity at all times… through your guidance, I have learnt so much especially on etiquette, refinement, protocol, office procedures etc. etc……above all your humility at all times is something I shall always cherish and admire."
Having been his Secretary for over two decades she should know.
However there was another side to his character despite his onerous professional responsibilities.'MTL' was not averse to have a laugh even with the articled clerks. As the late Fr. Derrick Mendis first found out. When 'MTL' became engaged to be married, Derrick presented MTL with Herald Froy's classic "How to avoid matrimony" but when he nevertheless took the plunge, Derrick was quick to present 'MTL' with Froy's next book titled "How to survive matrimony"! Both spouses were tickled pink and later their only off-spring Gayatri too joined in the mirth.I was among the fortunate few to be present when 'MTL' tied the knot to a gracious lady, and who looked after 'MTL' in good times and bad until death parted them.
Cricket did not play an important role at TY. Losing the so-called 'Big' match to Ford, Rhodes was the norm at that time. However when the tables were turned a spark of interest was lit in the minds of the management which eventually culminated in TY & Co. winning – for the first time – a Mercantile Cricket Tournament in 1965. It was in the C Division and thereby hangs a tale. Having won the tournament our team members adjourned to a studio, along with the senior partner, Mr. Hardstaff (and the shield too!) to take a team photograph. However one senior member, probably due to a communication lapse was delaying. So I went up to Mr.Hardstaff (bless him) and said: "Sorry Sir, to keep you waiting let's take the photograph since — he has still not come." 'Hardy's immediate response was:" Look, –he played in the team I did not, so let's wait for him." Eventually I had to tell a little white lie and we took the photograph without–. That was 'Hardy'. No wonder 'MTL' during our many private luncheon tete-a-tetes stated that he was grateful for having imbibed most of the ethics of the profession from 'Hardy'. Thereafter many young cricketers were recruited as articled clerks and to the general staff who had expertise in the game. In this regard, I used 'pressure' on 'MTL' and many sportsmen donned the TY colours on the field.
During our time Partners, especially 'MTL', were interested spectators at these matches. On one occasion however, a not too popular Partner forced himself into the team. At lunch-time rather than savour the lunch with the hoi-polloi, he went out with "MTL'. But he returned late and we had already taken to the field. When he tried to walk in, I signaled him out of the field and we played with ten men. I'm sure I put 'MTL' in a spot but he never said a word to me.
Finally, one day, 'MTL' requested of me to collect a team of former employees and play a match against the present team. His wish was of course a command to me. Indeed we played this encounter for a couple of years. It was most enjoyable.
'MTL' was never averse to giving a helping hand to sons/daughters of former employees, articled clerks. My son was a fortunate one, and that was not all, there were instances when such friendships resulted in matrimony.
Remember there were many shenanigans that were always in the air to which 'MTL' turned a Nelsonian eye but must have been secretly enjoying such matters though some of these occasions affected him too. Matters that cannot be put in print! As much as proof of the pudding is in the eating, one day Ramya Wijeratne, his loyal Secretary for over two decades, telephoned me and said that she had been asked by 'MTL' to arrange a two-day seminar for the Executives at a hotel down South. So I asked her what is my role in this enterprise and in any event I said that I will not be able to stay overnight. It transpired that I had been slotted to make the inaugural speech. I immediately confronted 'MTL' and asked him what was I supposed to speak on? The second speech the next day was going to be by Ken Balendra. 'MTL's answer was succinct: "You better tell what you were up to in the office."
So I did, much to the merriment of the entire audience. Of course I was avoiding the faces of both the Big Two (the other being Mr.Mather) while I rattled on. When the end came I walked up to them and this is what 'MTL' said: "You know Mahinda, you exceeded my expectations."
I thought I had died and was in Heaven.
Mahinda Wijesinghe
---
Doctor with insightful views on a wide range of  topics
 Prof. (Dr.) Tissa Perera
Prof.Tissa Perera's death recently removes from the community an excellent pathologist and admirable human being.
His demise marks the end of an era. Tissa was of a different milieu that produced professionals of true quality. Many of them were not driven purely by the need to acquire wealth and fame. Tissa, one feels, lived according to the dictates of his conscience. He disdained ostentation and opulence.
Tissa and I met intermittently over the last decade or so. Such meetings were often at his residence at Poorwarama Road, Colombo 5, within easy reach of my home.
I cherish these encounters, which helped me to learn much.Tissa was a man of few words, but they were full of wisdom and revealed that apart from medicine and the vast experience he gathered over the years on the subject, his ideas and views on a wide range of other topics.
Our first meetings were in a different era -the early 1960's. Tissa was among a group of intellectually inclined young professionals who met on weekends in Chapel Road, Nugegoda at the residence of a graceful old lady from a traditional Buddhist family. She lived there with her two sons and her nephew- a school friend of mine. It was a home of culture and conviviality.
These young men were driven by idealism and somewhat abstract thoughts of life.I remember them referring to Jean Paul Sartre and his famed novel 'The Age of Reason' first published in 1961 by Penguin Books.
Sartre had a positive impact on the intellectual climate of the period through existentialism, his philosophy of life. Decades later, Tissa and I used to recall those days.
The exposure to that atmosphere marked an early and happy learning experience and remains embedded in my memory.
Tissa was first educated at St. John's College Nugegoda, a Christian school where education was almost entirely in the English language, ever since it was founded in 1915 and until the early 1960's.Many leading families in Nugegoda  and the periphery educated their children at St. John's until they completed at least their primary education.
Tissa later studied at Nalanda College, Colombo. This enabled him to enter the only medical school in the country 'The Ceylon Medical College' a great seat of medical education in South Asia during those post-independence years.
As a pathologist Tissa worked in what was then the country's only medical research centre which is widely known as the M.R.I. This provided him with ample opportunity to acquire knowledge and experience in the field of pathology,which his inquiring and searching mind sought.
Later Tissa went to U.K which enabled him to further his interest in research at some of the highly advanced research oriented institutions.
It was whilst in U.K. that he met his wife. She proved in due course to be the ideal companion. Tissa also worked in Saudi Arabia and travelled extensively in Europe. It was in the U.K. that he was awarded the much coveted Ph.D. in Pathology. Returning to Sri Lanka he accepted an appointment as a Senior Lecturer at the newly established medical faculty in the University of Ruhuna, located  in the salubrious and verdant slopes of a hill in the deep south.
In due course Tissa was appointed Professor of Pathology – the pinnacle of his distinguished career.
After his retirement he settled down to a relatively easy life in Colombo 5.
Before I end this appreciation I wish to mention that during the final phase of his life he was engaged in writing his memoirs and I was asked to edit same.
Unfortunately I think that ill health prevented him from completing this final project of his which would have been of much value to his friends and students of medicine.
Jagath C. Savanadasa
---
Her simple  ways and faith in God; an example to all
 NESAM HENSMAN
We are saddened by the demise of Aunty Nesam on October 18, but earthly loss is heavenly gain says the Holy Scriptures.
As we celebrate her noble life, we remember her exemplary Christian life and witness, blessed with admirable qualities and virtues with which she was able to influence her children, Sharmala, Rajan, Miralayini, Mohini and Shiranthi and also all those who came in contact with her during her lifetime.
Always smiling, caring, sympathetic and helpful, she helped the downtrodden.
I came to know Aunty Nesam and her late husband, Uncle Ariam Hensman in Sri Lanka itself, as Uncle Ariam is a cousin of my late aunt S.V.O. Somanader
My association with Aunty Nesam grew more and more as we met quite often at the Tamil church seniors' meetings and later at the Nursing Home where she resided.
In her simple and unassuming ways she has set an example for us to follow.
Ashley Somanader
---
Sweet sentiments of a soul much loved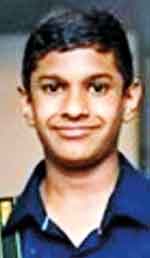 Devshan Weerasekera
Three months are gone since your departure
The third month remembrance bana and dane planned
Oh how swiftly it seems that time has passed
Yet each heart that loves you is still in sorrow bound
Those wonderful times, your goodness of heart
Your strong outgoing caring nature
Dearest son, how can we ever forget?
Your premature departure leaves us in much pain.
With all those splendid moments cherished,
With all those wonderful memories treasured,
Of a clever student, an achiever, popular and loved
Of a remarkable child, of a wonderful son.
Tributes have flowed, praising your potential
Speaking of all that you were and could be
They fill our hearts, yet deepen the void.
We seek solace reliving our memories.
Mrs H. de Silva
---