Rail crossing risk-takers face heavy fines
By Kasun Warakapitiya
View(s):
Alternatives are being sought to improve safety at rail crossings after more than 100 accidents in the first 10 months of this year.
A Rs 25,000 fine will be implemented at first as a deterrent to drivers and riders who disregard warnings at barriers and drive through. Some reckless drivers take the risk of getting stuck when engines stall.
Drivers of locomotives say jaywalking pedestrians also should be fined.
The superintendent of the Railways Protection Force, Anura Premaratna, said since most accidents occur at locations with barrier gates as well as bell and light warning systems, other methods will have to be adopted.
He said drivers continue to ignore warnings, risking death.
Public announcements are broadcast at railway stations and warnings are also played on TVs.
Mr Premaratna said that the government has proposed a fine of Rs 25,000 against drivers who take risks at rail crossings when the barrier gates are closed.
He said that 446 people have died up to October 28 from January this year on rail tracks.
In this period, there have been 115 incidents of motor vehicle accidents at railway crossings. The tally of deaths in these incidents is not known.
He said 134 people have been prosecuted so far driving through, while the rail barrier gates are closed.
Mr Premaratna said some drivers wait for a train to pass and then attempt to cross, while risking being struck by another train on the other track.
This week, officials held a meeting following accidents in Veyangoda and Hunupitiya in Wattala.
The accident at Hindeniya, Veyangoda crossing resulted in the loss of three lives and left one injured. A Colombo-bound train hauling oil wagons, crashed into a car that was crossing the rail track on Monday at around 8.45 a.m. The Negombo bound car had reached Hindeniya Railway crossing at Veyangoda.
According to the police, the driver had stopped at the crossing, but then continued onwards as another train approached the crossing.
The train carrying fuel from Anuradhapura to Colombo collided with the car and tossed it 20 feet.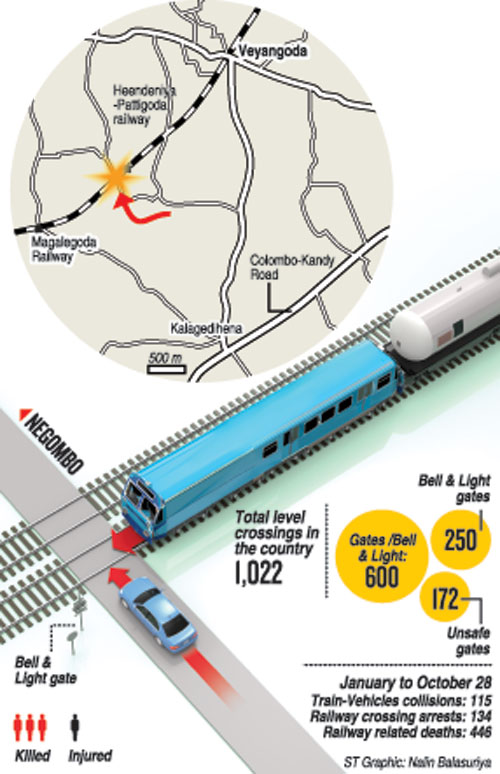 The deceased were identified as Vedippuli Arachchige Anoma Ratnamali a resident of Rajagiriya, 43, L K Danushika, 28, a resident at Hawa Eliya in Nuwara Eliya and Prasanna Kumara, a national beach volleyball trainer. M A Hemapala, the husband of one of the deceased women, survived.
At Hunupitiya, two lorries collided with a locomotive operating from the Fort to Batticaloa on Tuesday at 6:10 am. It had happened after three trains had passed and the barrier gate had been opened.
The vehicles had moved slowly towards Kiribathgoda, but the vehicle line was long. The two lorries including a container carrier, were still within the rail tracks area when the barrier gates had closed, again, from both sides. The drivers had escaped in time, the police said. One driver has admitted to a local TV network that the vehicle stalled and he bailed out.
A train had smashed into one lorry and tossed it to a side where the second lorry stood and in turn toppled it. A car was also wrecked. There was damage to the locomotive and some carriages.
Meanwhile, the president of the Locomotive Operating Engineers Union, Lal Paranawithana, said that they had suggested overhead bridges for motor vehicles rather than level crossings.
Mr Paranawithana pointed out that bends at rail lines at crossings and creating private lanes to properties across rail tracks have been the cause of many accidents.
When re-laying tracks, he suggested rectifying such issues.
He said that the Hunupitiya crossing was one location for which they had proposed an overhead bridge.
The union also suggests higher fines for people who walk, ride or drive across railway tracks when the railway barrier gates shut and warnings are flashing.
"We can only toot the horn as we approach the crossing and apply brakes when we see a vehicle on the tracks. The vehicle drivers panic and have no time to react,'' he said.
The chairman of the National Council for Road Safety, Dr. Sisira Kodagoda said bell and light systems are being installed at 200 unsafe rail gates.
He said that discussions have been held with the Ministry of Megapolis to create a more effective warning system.
He also said that the council joined with private organisations to fix notices on the approach to crossings, advising drivers to slow down.
"Negligence is the cause of accidents. The Rs 25,000 fine is still at the legal draftsman. As soon as the process is over, it will be gazetted and implemented," he said.