Untimely death slices pillar of Carrom Federation
By Lakshman Ranasinghe
APPRECIATION: Thumula Naotunna
View(s):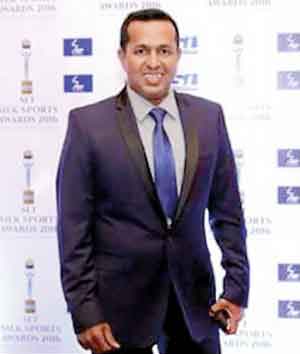 The Sri Lanka Carrom Federation (SLCF) suffered an irreparable loss last Monday (6) by the sudden demise of its Gen.Sec., in the prime of his life, at age 47.
A product of Mahanama College, a gentleman par excellence, Naotunna devoted all his free time for the benefit of the game which he was devoted to. The late Gen.Sec. rendered invaluable service to the SLCF. A gentleman who did not fear to call a spade, a spade, and to whom the SLCF always took priority to ensure the game as well as its players reaped their due benefit.
Naotunna always backed the players, in victory or in defeat. His advice of this ardent supporter of the game of Carrom was always sought after. His crowning moment was when the Sri Lanka Slicers won the World Championship and Nishantha Fernando won the Singles Crown.
A fine Carrom player himself, as a schoolboy, Naotunna dedicated his life to the game by becoming an elected member of the SLCF. He was nationally ranked in the Singles and Doubles events, and was a member of the Sri Lanka team that participated in the 2nd Carrom World Cup in New Delhi, in 1999.
Naotunna was elected Gen.Sec. of the SLCF in 2015, and held the position until his untimely demise. In 2016 and '17 he represented Sri Lanka at the International Carrom Federation Cup held in India and the World Cup in Birmingham, UK.
World Carrom Champion, Nishantha Fernando speaking to the Sunday Times paid a glowing tribute and went on to say, "Naotunna was a gentleman who devoted his valuable time for the benefit of the game. Having served the SLCF for nearly 2 decades and was elected the Gen.Sec., in which capacity he played a major role in the game's inclusion in the National Games. A character respected by every player and every member of the SLCF, he had many plans for the future of the game. Always interested in providing the best facilities for the players, which paved the way for Sri Lanka to become World Champions. The service that Naotunna rendered to this game is irreplaceable and the huge void created byn his untimely death cannot be filled," said the World Champion.
Thumula Naotunna leaves behind his beloved wife and 2 children. The funeral took place at the Mt. Lavinia cemetery last Wednesday (8).