National Olympic Committee on new track with good governance pledge
View(s):

Right now there is a huge hype about the advent of Chandika Hathurusinghe dawning the Lankan cricket horizon and, if I am not wrong, the same hype was in place when Sri Lanka Cricket (SLC) managed to rope in South African Graeme Ford, who was no stranger to the local turf a while ago. He too was given the Lankan cricket reins till 2019, just like Hathurusinghe would, hypothetically, pretty soon. Incidentally, as per Ford– he had to bid adieu prematurely. We wonder as to what Hathurusinghe's reign be? Generally, all, in this sphere of activity, have short lifespans.

Yet, there is another line of sports activity where the 'king' lives happily ever after or, just say close to that. For instance, the heads of the National Olympic Committee of Sri Lanka (NOCSL) are blessed with longevity. At the helm of the NOCSL, for the past four decades, have been just five personalities — two Presidents and three Secretaries General. The two Presidents are Roy de Silva and Hemasiri Fernando, and the three secretaries general are are Prema Pinnawela, H.U. Silva and Maxwell de Silva. To make matters worse, owing to more than one reason, even the executive committee of this organisation had been dormant since 2013, until the alarm bells at the IOC began tolling last month and things started moving.

To tell us about what went on behind the curtain is an academic and sportsman. If you ask about Kayaking or Canoeing, Preethi Perera is the lifeline. But the former UN expert, now turned an executive committee member of the NOCSL, knows more than a thing or two about how the NOCSL ticks.

Primarily, Perera explained, "The NOCSL is the bridge between the International Federations, International Olympic Committees, the Association of National Olympic Committees, Olympic Committees of Asia and the Commonwealth Games Federation, besides the other recognised sports organised by the IOC. The NOCSL acts as the focal point of this endeavour and the link between the former and the local federations, and inculcate and promote Olympic values. In doing so, it preserves the items in the Olympic charter and ensures good governance. Going further into this aspect, it is about governance. That is what impacts the day to day or other issues that besets sports in general and the committee in particular.

"Governance is a major issue; governance involves transparency, accountability, inclusivity, stakeholdership, partnerships, leadership and teamwork. All these are ingredients of governance."

The Musings then queried how come that an organisation such as the NOCSL has had only two presidents and three secretaries general during the past four decades, and whether he could see this as good governance.

Perera explained, "Our constitution and the statutes have permitted this; and also there have been no term limits in the posts of president and secretary general. This is one instance. Then, there is another case. In 2013, we went into a legal dispute, between the Ministry of Sports and the NOCSL. There, the then Minister, Mahindananda Aluthgamage, brought in intrusive provisions.

"That was effective generally for the independence of the association and the volunteerism. We are all volunteers – we are not paid. It was about volunteering — independence of voluntary associations. This went against the Olympic charter. That was the concern of the IOC and we all supported this and the federations and the associations were trying to sort this out. Now the new statutes that we have passed on November 9, provide for only two, two-year terms for the president and the secretary general, which are deemed key posts."

Perera said that during the 2013 crisis, while the whole Olympic unit worked as one, to remedy the situation, there came a phase that, besides the president and the secretary general, the rest of the organisation became dormant over a legal ruse. From 2013, the NOCSL clock ceased to tick.

The Musings then asked how this happened? Was it political interference or any other matter within? Perera explained, "Things really started going sour in 2013. It was the beginning of the bad period. The moves that were brought in by the then Sports Minister Aluthgamage met with a lot of resistance, because they were impacting on the independence of the Association of all voluntary organisations, and we had to make our own rules and regulations. They are generally reasonable and keeping with the Olympic charter which provides for this. But, at the same time, the IOC insists on good governance."

Good governance, Perera said, is about following new processes and procedures. The case of a new association must be first presented to an executive committee, which needs to be give all the details about its activities, for the ex-co to examine and assess the validity, he said and added that this is necessary "because we don't enlist any and every association; they have to prove their intent."

Perera, however, admitted that for four years no executive committee meetings had been held.

"As a result, all new affiliations were held in abeyance. Then, when we called for their acceptance, being very strong about good governance, we insisted that we have to follow the due process."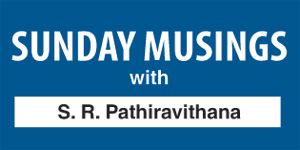 Perera said the first executive committee meeting of the association is due to be held on November 24, after four years of inactivity.
"We had the General Assembly on November 9 and we are awaiting the executive committee to be convened by the secretary general. We are very keen they have it on time and we fervently hope it would happen. Then, we have fixed elections for January 9, 2018. We only hope, for the sake of the country and the sports in the country, that nothing else will come in-between. People who are running the NOCSL or, who will run the NOCSL, must think of the country and the sports first, and not about themselves. So we have to ensure the executive committee meetings and the elections are held on time within the due process."
Then, the Musings asked as to how sure they are whether it would not happen again, with what has already transpired? Perera said, "We have revamped the constitution. We have permitted the hierarchy to hold only two terms. That also was a quirk of a chance. Whatever is contained in the constitution must also be compatible with the prevailing sports law. We have to respect that and, at the same time, we have to abide by the Olympic Charter, because we are the Olympic Committee. The Olympic Charter is all about brotherhood, camaraderie, respect, transparency and accountability, like I said before."
Perera said that good governance has not started as yet. We hope it would start sooner than later, hopefully, by January 9.