Maxxis ensures Junaid-Ameer return to Asia-Pacific Rally Championships
View(s):

Maxxis Sri Lanka will support Sri Lanka's return to the Asia-Pacific Rally Championships (APRC) when local rally champs  throw dust at the India Coffee Day Rally of Chikmagalur, the final round of the APRC, to be held from Nov.24-26.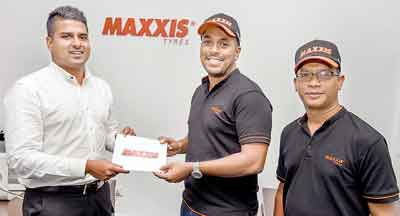 The local duo narrowly missed the podium in the India Rally Championships (IRC) category at its last year's edition. This year they will be competing in the higher APRC 2WD category, signaling a return of Sri Lanka to the APRC, since the last participation by Dinesh Deheragoda in 2015.
"As the final round of the APRC, the Coffee Day Rally is a much looked forward to event. It is also a very technical rally, with quite a number of turns, and we are looking forward to giving it our best", said Shafraz Junaid of their planned return. As a returning international entry, the Sri Lankans have also been invited to kick dust in the ceremonial shakedown stage with the APRC 4WD rally cars.
The duo will be supported by Maxxis Sri Lanka, HTL Logistics, Contura Lanka and Pro Mech, each of whom have contributed towards their entry, logistics and various aspects of their participation.
"Shafraz and Akhry have been consistent performers in the local rally scene for more than a decade, and have demonstrated their commitment to the sport. We are delighted to back their participation and wish them all success to better their performance from last year", said Tyre House Group , Director Gayan Fonseka.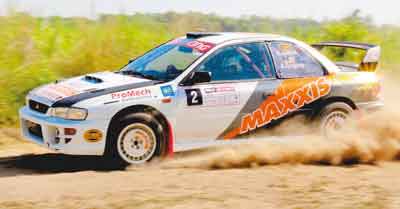 Junaid and Ameer drove hot into the 2nd Leg of the Coffee Day rally last year, to catch up 20 seconds for a 3rd place finish, but an engine miss towards the latter stages and the possibility of not having an opportunity of a service, forced them to nurse the car and settle for a 4th place finish, 40 sec away from the podium in the IRC category.
The pair, who were recently adjudged winners of the KORSC TSD night rally, will be racing a Volkswagen Polo rally car tuned by GT Tuners, Bengaluru. The car will be different from what they competed in last year, as the higher APRC2 category requires greater conformity to FIA specifications, such as the fire bomb apparatus and other car setup changes. Their VW will share the same paddocks with leading APRC contenders Mike Young and Malcolm Read.
The duo of Shafraz and Akhry have been pairing off for more than a decade and have many accolades to their credit. They have been competitively placed across the board in TSD raids in the Motorcycle category riding a Honda Transalp 600, winning overall in a Nissan 4WD cab and in their Subaru GC8 rally car.