Timeless beauty
By Tarini Pilapitiya
View(s):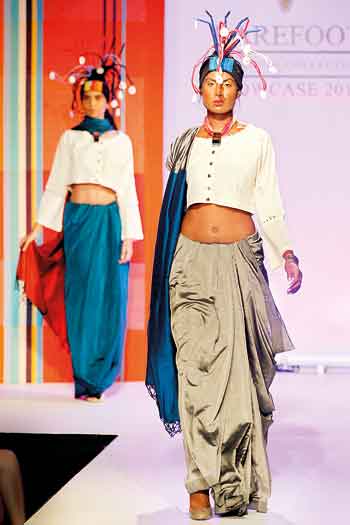 Less is more" the compere comments as she introduces the five designers of "Barefoot -The House Collection Showcase 2017" who exhibited their "70 looks" at the Barefoot garden on Saturday, November 11.
With 52 years in the industry, Barefoot's timeless pieces are built on a foundation laid by the inimitable Barbara Sansoni. The five designers; Preethi Hapuwatte, Geni Raseen, Nelun Harasgama Nadaraja, Marisa Gnanaraj and Ravithma Gunasekera presented a diverse selection of unique pieces – their contribution  to'Barefoot couture'.
Geni Raseen's collection "Psychedelic Rainbow" was various apparel made in a patchwork of vibrant colours. Happy, fun, playful and carefree, the models themselves had a certain bounce to their step as they sashayed down the ramp. Norman Greenbaum singing "Spirit in the Sky" added to the ambiance of a 'beach-esque' feel to Geni's collection.
"Shaker style" by Ravithma Gunasekera,  the next collection presented that evening was striking in its simplicity. Hues of whites, greys, blues, greens and browns were used to create simple yet contemporary garments reminiscent of the lifestyle of the 18th century religious sect –the Shakers. The energy of the era resonated in the clothing  – loose shift dresses, styled minimally with white sneakers, complemented by vivid hand-blown pieces by Arora Jewellers.
A flurry of models in varied styles of clothing emerged next – an apparent combination of all the designers' work. Twirling on the ramp the bright outfits mesmerized, capturing the 'island essence' Barefoot strives to integrate. Little gems of wisdom by Barbara were read out embodying the atmosphere of the showcase. "Are you a true islander?" Barbara questions inviting audiences to picture the "cool, refreshing" landscape of the country. "We are high on crafting artistic people" her words continue, adding "Cure your colour blindness …go barefoot"
"Origami Dervish" by Nelun Harasgama Nadaraja was a stunning collection of monochrome pieces. Throughout her
collection Nelun used a large square fabric which she folded in a myriad ways to resemble the paper folding method – Origami. Simple designs, complex in construction, Nelun's collection was visually deceptive. Presented theatrically with Leonard Cohen's "Dance with me to the end of Love" in the background, the collection was clever, complex, contemporary, visually pleasing and functional.
The only menswear collection that evening "Horizon Infinity" was versatile trendy apparel by"M fact" founder Marisa Gnanaraj. An amalgamation of tones of oranges, mustards, blues – interpretations of vast desert landscapes through design and colour, the manipulation of Barefoot's signature handloom and her own take on men's overcoats and bags showed great dexterity making this independent designer's style stand out as distinctly her own.
Tried, true and timeless – Preethi Hapuwatte's collection was a worthy grand finale. Showcasing her legacy of working at Barefoot, this innovative designer had upped her game by incorporating other miscellaneous items found at Barefoot stores into her collection. Some unusual pieces to see were the napkin rings used as necklace pendants and eye popping eccentric headdresses (resembling Ves headpieces) made with coasters and string hopper mats. Indigenous apparel like sarees, the long sleeved hospital jackets, Ambalangoda dancer's skirts made a reappearance in this collection in contemporary designs. Vibrant, colourful, innovative  – this collection was quintessentially Preethi's signature style.