Neville Weereratne's work at Alliance Francaise, Kandy
View(s):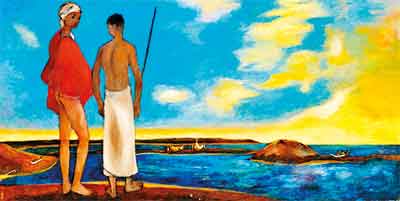 An exhibition of paintings by Neville Weereratne will be held from November 22 to December 13 at the Alliance Francaise, Kandy.  The paintings are from the Taprobane Collection owned by Shamil Peiris and his family.
Weereratne had his education at St. Joseph's College, Colombo where he was motivated by Richard Gabriel (a founding member of the '43 Group) the art master at the time to develop his interest in art. He also attended classes with Ivan Peries (another founder  member of the '43 Group) and was given the opportunity to exhibit with the '43 Group at the Imperial Institute Galleries in London in 1952, in their first overseas exhibition.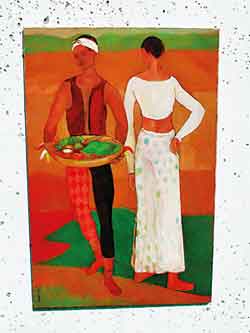 One of Weereratne's early interests was designing for the theatre, which he practised with the late Arthur van Langenberg. He was also art master at St Peter's College between 1949 and 1952, and worked as a journalist attached to the Associated Newspapers of Ceylon Ltd, between 1952 – 1966.
Leaving for Australia in 1971, Neville Weereratne along with his wife Sybil Keyt, retained their love for art and their motherland. Weereratne's  art has always been influenced  by rural Sri Lanka and its people.
Weereratne's work has been seen before at many exhibitions in Colombo and in Melbourne, Australia some of which were joint exhibitions with his wife Sybil Keyt. A renowned writer, he has published several books, on notable artists over the years.