Bridal fare to the strains of the De Lanerolle Brothers
View(s):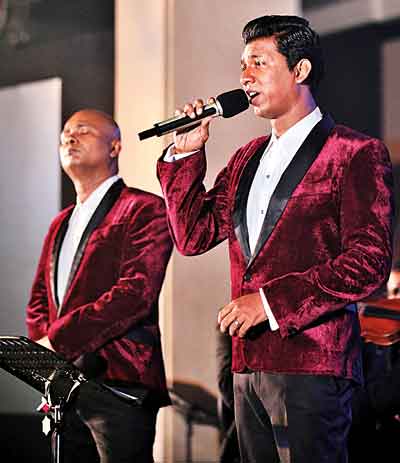 The De Lanerolle Brothers have taken on a novel project this month lending their voices for a Designer Wedding Show. The show will feature models who will take to the ramp dressed in bridals to the sound of songs performed by the De Lanerolle Brothers.
The designers will include Ramani Fernando, Michael Wijesuriya, Lou Ching Wong, Fouzul Hameed, Nayana Karunaratne and Cheryl Gooneratne. The brothers' will perform their usual renditions of hits from the 60s and 70s as well as a few songs from Broadway – and these songs have been selected by the designers themselves to match the theme of their collections.
Speaking on behalf of the De Lanerolle Brothers, Ishan De Lanerolle stated that the brothers are happy to be taking part in this show. "We're very happy to be doing something different with Key Media and happy to be able to do one of the first shows at Shangri-La (Colombo)," he said.
The Designer Wedding Show will be held on November 28 at the Shangri-La, Colombo from 6.30 p.m onwards. Tickets priced at Rs. 8000, 5000 and 3000 can be purchased by calling 0777791681 or 0777996991 or online at www.444.lk.