Appreciations
View(s):

He answered the call of Lanka, and 'made a difference'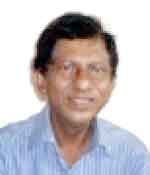 NIMAL RAJAPAKSE
Overseas employment was not a major topic discussed among Sri Lankan engineers in the 1960s and 70s. However from the early 1980s onwards, the situation in the country prompted many to move abroad. The departure initially planned as short-term later became permanent. It gave most of them challenging experiences with lucrative employment for themselves and undreamt of opportunities for their progeny.
However, throughout the years of Sri Lanka's conflicts and upheavals, there was a core of people who were determined to stay and serve the motherland. Those who left for far away lands would generally recall these 'stalwarts' with a mix of admiration and gratitude: Admiration for their focus, and gratitude for providing leadership and guidance to those who followed.
In the annals of Sri Lanka's post-independence history, a chapter that merits mention in gilded letters is the construction and operation of the Ceylon Petroleum Corporation's (CPC's) Refinery in Sapugaskanda, commissioned in August 1969. Others more versed with events leading up to the achievement could give details of how the Royal Dutch Shell Company specialists were dumb founded, when after only three years of supervised operation, the Sri Lankan team, ably led by the first Sri Lankan Refinery Manager Neville S. Weerasekera, was able to take over running of this complex process plant in 1972.
CPC's recruitment of young engineers to the refinery was not done by advertising in the press, but by requesting a list of graduates from the universities. Being a high risk workplace with precise technical and safety standards, young engineers would be taken in before they could be negatively influenced by other less stringent workplace attitudes and practices. I was one of the fortunate ones to begin my working life fresh from University in October 1975 at the oil refinery and experience a work place possibly unlike any other in Sri Lanka at the time.
I began in the Projects Department then headed by Dr Walter Wickremesinghe, whose 'right hand man' was Nimal Rajapakse. He had graduated from Peradeniya in 1970, the year of my admission. I worked under his guidance on interesting projects. One close to completion was the LPG Storage and Cylinder filling project. Steel Pressure Vessels were designed and fabricated to latest ASME Code requirements. Nimal was Project Leader who used his skills with CPC management, internal and external engineers plus draughtsmen and fabrication personnel. Considering the extremely hazardous nature of LPG, adherence to Standards throughout was mandatory. Another large project then in its early stages was the Crude Distiller Unit Debottlenecking project to increase the capacity of the refinery.
Nimal was not voluble and generally focussed on the job in hand. Soft spoken, he came across as a shy person. The projects department had about 15 people comprising engineers, draughtsmen, stenographers, printing aide and Nimal dealt with most matters.
In 1976 he spent a considerable time in Italy with designers/manufacturers on the CDU Debottlenecking Project and we were in contact using the prevalent communication media – Fax and Telex! When he returned from the Nuovo Pignone works in Florence, I asked him if he had met Sophia Loren in Italy. He gave a shy smile and said that "On every street there were Sophia Lorens to be seen!" He, a bachelor then, was dedicated to work but also gave importance to his role as carer for his widowed mother and journeyed frequently to the family home in Negombo.
At the helm of the Refinery in those days was a true 'stalwart'. Daya Chandrasekera, whose brilliance had seen him appointed Refinery Operations Manager at a young age was Acting Refinery Manager when I joined. Chief Technologist S. Sivasunderam and he made an exceptional duo, who initiated projects to improve the refinery in myriad ways. These projects served Sri Lanka well since expensive petroleum products made in the refinery saved valuable foreign exchange.
To implement all these projects there was Nimal Rajapakse. First Dr Wickremesinghe, and then his successor Lalith Mendis left Sri Lanka and Nimal duly headed the department. Many senior engineers/managers too departed, attracted by British owned companies in the Zambian Copper belt and the Oil fields of the Middle-East. I too left Sri Lanka in late 1982, and had no contact with the Refinery or Nimal for many years. In 2012, after seeing his email address in correspondence with a former colleague we reconnected on email. He'd given 36 best years of his life to the CPC Refinery.
Seeing all that Sri Lanka has gone through in the past few decades, with deterioration in values displayed by many in positions of authority, the contrast is stark when one recalls that era at the Refinery. 'Duty' and 'Integrity' are words that come to mind remembering then RM, Mr. Chandrasekera who had his hand on the tiller for almost 25 years, serving his country well through turbulent times. Nimal Rajapakse was cast in the same mould and became Refinery Manager in May 1999. Having seen two outstanding RMs – Weerasekera & Chandrasekera – he was well equipped to succeed. Nimal was RM for eight years and left in October 2007, taking up the position of Project Director for CPC's US$ 64 Million Off-shore Pipeline project, successfully completed in 2014.
In our correspondence in recent years, Nimal did not mention professional achievements or work place highlights. Others will no doubt pen some of these in due course. He wed late in life, but he and wife Geetha raised four children who are progressing well. He wrote of the technological changes we had seen in our lifetime. How there were no computers in workplaces when we began. How the mobile phone is now seen by parents as something distracting the younger generation from enjoying the world more fully. How every religion tries to teach us to love, not material possessions and technology, but the family, elders, neighbours. How God expects us to develop technology and use this to better love each other. He said that his hope and prayer was that the younger generation would care for each other and live good, spiritual lives.
Nimal was a decent man – a good son, not only to his mother but also his motherland. He fulfilled the Biblical span of three score and ten, and departed peacefully, just after his birthday. His wife and children can be consoled, and proud, that he was one who answered the call of Lanka, and 'made a difference'.
So nigh is grandeur to our dust,
So near is God to man,
When Duty whispers low,
Thou must, The youth replies, I can. -Ralph Waldo Emerson
Ranjan Abayasekara
---
He gave his best to the Ex-Planters Association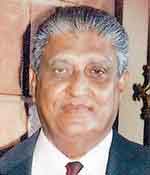 Lasantha.P. Fernando
The first death anniversary of our beloved Lasantha, Lassie to some, fell on November 10. His unexpected illness and sudden death shocked his friends and loved ones as he was such a dynamic, active and lively personality.
He hailed from Moratuwa and was the eldest of a family of five. He had his education at Wesley College, Colombo. Lasantha loved his Alma Mater and did a lot for it, assisting the school in many ways, especially in the construction of the school chapel. He was elected the President of the Old Boys' Association and his final wish was that  his funeral service be held at the chapel, which he assisted in  building.
Lasantha, followed his father, a reputed senior planter, E.T.Fernando's footsteps and took up planting in 1965 at the age of 20. He joined a reputed British owned company, George Steuarts & Co. as a "creeper". He was trained under a strict disciplinarian Manilal Abeywardane, Manager of Rosita Estate Kotagala. Having worked on several estates as a "Sinna dorai", he got his promotion as a "Periya dorai" on Bogawana Estate, Pundalu Oya.
After the nationalisation of estates, he was appointed the Deputy General Manager of the Janatha Estates Development Board (J.E.D.B).
He left the J.E.D.B to form a consortium with the help of some leading businessmen to take over the privatised Tyre Corporation, and formed Kelani Tyres PLC where he was a Director. He was appointed to the boards of several other subsidiaries of Kelani Tyres PLC.
Lasantha married Sriyanee, the only daughter of Dr. Colin and Maureen Gomes from Moratuwa. They were blessed with two handsome, smart sons, Eraj and Chandev. Lasantha was proud of his family, and often spoke fondly of his wife, sons, their wives and his four precious grandsons.
The icing on the cake for Lasantha was the formation of the Association of Ex-planters. He and two others, Raja Attygalla and Wilhelm Balthazar were considered founders of this association. Lasantha realised the need for an organisation for retired planters. The association has its own medical scheme and death donation fund.  Lasantha is greatly missed at all events organised by the association   as he would not only actively participate in its activities but generously contributed towards the expenses of the events as well.
Lasantha donated  large sums of money for two Memorial Funds that the association opened on his request, the "Raja Attygalla Memorial Fund" to which he made the initial donation in order to honour Raja Attygalla, a co-founder and the other the "Mr & Mrs E.T  Fernando Memorial Fund" to honour his parents.
He had a large heart and was generous in giving. Many a time he paid the annual subscriptions of members who had defaulted in paying membership fees. He also lavishly contributed  towards the functions organized by the Association.
To honour him, the Association elected him its Trustee. He came from his hospital bed to attend the Annual General Meeting in 2016 just before his demise. He was honoured once again as the Association elected him the Chairman- Protem at the AGM.  This year, we invited his wife, Sriyanee as a Guest of Honour.
One of his last wishes had been to adorn him with the association tie when he died!
Lasantha had a special place for the Association of Ex-Planters,in his heart and the Ex-Planters owe him so much.
Let us thank and praise God for the life of our dear friend Lasantha !
Members of the Association of Ex-Planters
---