A show of talent, colour and exquisite dance
View(s):

If you missed it, you missed out on one of the most stunning dance productions of the year! As always, Kanthi Ranchigoda delivered beyond expectations with yet another mega production 'Technique Colour' at the Lionel Wendt from October 20 to 22.

It was entertainment of jaw-dropping standards from start to finish when over a hundred talented dancers ranging from 2 ½ to 25 years, presented 23 different dance items, each unique and incandescent in its own way!

There were fluorescent peacocks on point, there were fiery flamenco dancers, classical ballerinas and of course the grand finale which featured a variety of north and south Indian dance routines in stunningly designed, Indian costumes.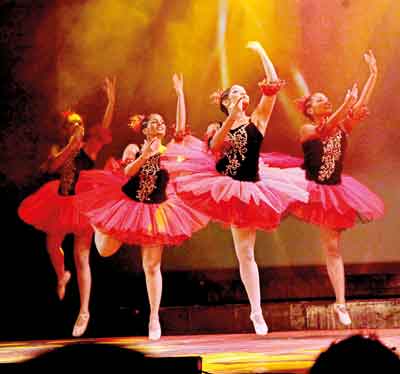 A delight to behold, were the many classical ballet routines performed exquisitely by the youngsters as well as the senior students. Other items such as tap dance, jazz ballet, freestyle, jive, hip-hop and stylized dance items such as 'puppets on a string' brought variety and energy to the show!
Kanthi's youngest students stole the show with their endearing and cute enthusiasm and received roaring applause while the senior girls left the audience breathless with awe. As breathtaking as the dance routines were, the fabulous costumes and music took the event to a whole new level of entertainment.
Decked in every shade and hue, from neons to metallics, from pastel shades to burnished hues from gentle sparkles to outright shimmers, Kanthi Ranchigoda's students outdid themselves on every level leaving the audience delightfully mesmerised on all three nights.
Having been a student of classical ballet herself, Kanthi Ranchigoda started teaching classical ballet over 37 years ago and over the years adopted freestyle, tap, jazz, hip-hop, bollywood and contemporary movement to her repertoire. She also conducts aerobics and stay-fit classes for all ages. We look forward to Kanthi's next production two years from now.
The proceeds of the event were donated to SUROL
Sri Lanka – The Society for Upliftment and Rehabilitation of Leprosy Affected Persons.