Three-wheeler regulations from Jan. 1, demerit system early next year
By Shaadya Ismail
View(s):
As concerns rise over an increasing number of fatal accidents on Sri Lankan roads, the authorities are gearing up to implement new safety regulations governing three-wheelers from January 1 and the new fine system together with a point-based demerit feature from early next year.
Motor Traffic Department legal officer K.I. Yogachandra said arrangements were being made to implement the revised three-wheeler regulations which were approved by Parliament on October 20 after some changes were made.
The three-wheeler safety regulations were first gazetted on January 9 this year but they were revised after objections from three wheeler associations.
According to the National Council for Road Safety, the revised regulations stipulate that the speed of a three-wheeler should not exceed 40kmph and that the number of passengers should be three. However if children are to travel, two adults can accompany them.
In terms of the new regulations, a speedometer and a fare-meter are mandatory. The distance between the driver's seat and the passenger's seat should have a gap of 21.5cm.
Meanwhile the Transport Ministry Secretary G.S. Withanage said the regulations regarding the new traffic fine system were being fine-tuned by the Legal Draftsman.
The regulations are expected to be presented in Parliament before the end of this year or early next year.
Motor Traffic Department's Mr Yogachandra explained that under the proposed fine system, a demerit system would be introduced and it would be primarily controlled by the Commissioner of Motor Traffic, while the data entry will be carried out at police stations.
He said that at present, networking issues were being dealt with to link the Motor Traffic Department's driving licence system with the demerit system to be installed in police station computers.
These moves come as transport experts call for tough new measures to reduce fatal road accidents.
On Monday, at Madurankuliya, seven passengers, including an Indian national, were killed and 45 were injured when a Colombo-bound bus from Jaffna overturned.
Police said the bus hit the railing of a bridge while overtaking a three-wheeler.
In another fatal accident, three people died after the truck they were travelling in crashed into a transformer post in Minuwangoda.
According to Police statistics, 2,544 people died in 2,421 fatal road accidents in the first ten months of this year.
The dead include 762 pedestrians, 823 motorcyclists, 152 pillion riders, 239 cyclists, 206 drivers and 354 passengers.
Police Spokesman Ruwan Gunasekara attributed the high number of road accidents to negligence on the part of both pedestrians and drivers.
He said road accidents could be reduced by 60 percent if the drivers and pedestrians were conscious of road safety.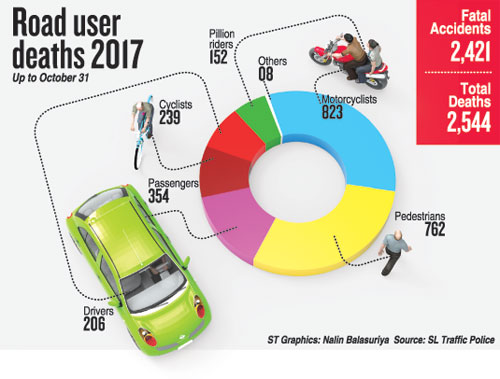 Amal Kumarage, Senior Professor at Moratuwa University's Transport and Logistics Department said most vehicles on the road had no stringent safety standards. In a bid to make vehicles affordable, some manufacturers compromise on safety measures, he said.
According to him, heavy vehicles fall under the high risk category because they are difficult to manoeuvre. Besides, our road infrastructure is not designed for such vehicles.
He said the main reason for accidents involving buses and trucks is the competition among truck drivers and bus drivers on the road and the poor vehicle management system.
"Increasing fines or training drivers is not enough to curb accidents. New technologies like the Global Positioning System (GPS) and other telematics should be employed to control speed and monitor vehicle routes," he said.