Laggala tragedy: Alert villager's phone call saved lives upstream
By Akash Widanapathirana
Unusual topographic features of the area resulted in the sudden upsurge of the water level in the Oya on that fateful day, say officials - Life guard, Police constable R.M.A.S. Ratnayaka says bathing near waterfalls more dangerous than bathing in any other water body
View(s):
In what could be a prelude to last week's tragedy of eight people from two families drowning while bathing in the Thelgamu Oya in Laggala, comes a report of how just before the incident a group of about 40 to 50 bathers were saved from succumbing to a similar fate about 6-7 kilometres further upstream due to an alert villager.
On that fateful day on-duty life guards, Matale police officer R.M.A.S. Ratnayaka and K.N. Upul Wasantha Kulasekara of the Wilgamuwa police keeping vigil over the rapidly changing current of the stream at Illikkumbura a popular bathing spot along the Thelgamu Oya.
"I got a phone call around 12.10 p.m. from a villager, Rathinda, who was about 10 kilo metres upstream and he said there is a sudden surge in the water level. I immediately shouted out warnings and blew my whistle and got the attention of the bathers who within about three minutes were out of the water," said constable Ratnayake adding that soon after that the water level at this spot too rose dangerously.
But tragically the eight people who were bathing near Weddapeni Ella in Etanpola, around 6-7 km downstream were swept away by the current.
Officials said the unusual topographic features in the area had resulted in the sudden upsurge of the water level in the Oya ending in tragedy.
The victims were Kinglsley Ratnayaka 40 , his two children Chithrani 12 and Hiruni their aunt Manawitage Chandrakanthi 59 and members of another family Ravindra Wasantha,38, his wife Ramani Dilrukshi 37 and their daughters Krishan Wanisha,12, and Imasha Widusha,7.
Illukkumbura, where the group of about 40 to 50 were bathingis a popular bathing spot among locals in the area and tourists alike. Since 23 people had drowned at this very same spot in the past 15 years police life guards are deployed at the location on weekends and on public holidays.
"But the spot that claimed eight lives is not a popular bathing spot and hence no life guards are deployed there," constable Ratnayaka said.
He said usually when the water level rises there are warning signs such as floating logs, branches and debris, but it was not so on that day.
He suspects that since the catchment areas upstream had received significant rainfall, the water level would have risen suddenly. "More than 50 small waterfalls flow into the stream from the Riverston and Etanwala mountains on either side of the stream. This can create a sudden increase in the water level within a short time after a rainfall. Visitors to the area are unaware of this," he said.
An officer at the Laggala Police Station, told the Sunday Times that the unusual sharp elevation of the area– nearly 2,000 feet within a short distance of less than 15 km– also leads to the sudden rise of water in the area when the upper water catchment areas receive rainfall. The velocity of the current also increases dramatically.
Meanwhile villagers charged that although at least six qualified life guards should be deployed along the stream, there are only two. "There are only 10 life guards for the entire Matale division," one villager said.
Constable Ratnayaka meanwhile said that bathing near waterfalls is always far more dangerous than bathing in the sea or in a lake. "There are no safe waterfalls to bathe in in the hill country. Even a life guard finds it difficult to rescue someone drowning near a waterfall as the current is strong."
He said many drowning incidents near waterfalls are either by slipping from rocks above or jumping into the water from a height.
"There are places near waterfalls that have quicksand sediments. These are not clearly visible from outside. Stepping on them is very dangerous and people can be dragged into deep holes formed between rocks near waterfalls."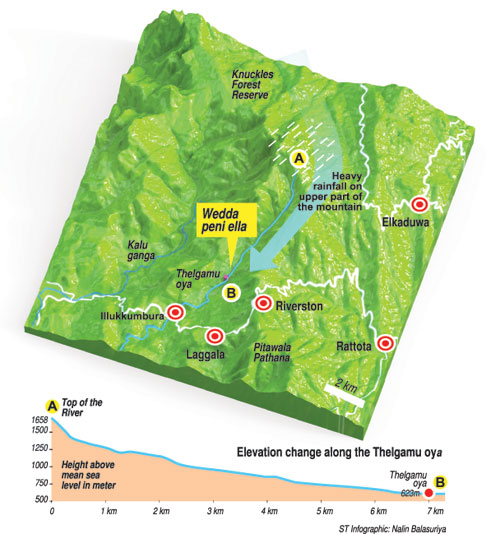 He empahsised the importance of both local and foreign tourists inquiring about the safety of an unfamiliar place before stepping into the water. The policeman also warned that people should not be overoptimistic about their swimming skills and should refrain from consuming alcohol.
He also added that the current tourism trend especially among youth is to select unknown and unpopulated areas as bathing spots. "Some people checkout unknown, scenic places on the internet and visit the place on their own. They have no idea about the surroundings. Certain places which are not earlier identified as dangerous are now deemed dangerous but people visit these places without any prior knowledge." The policeman also added that tourist abodes are being built near streams and beaches with little knowledge of the safety of the surrounding water body. He added that most of these places are unable to deal with a drowning emergency too.
Meanwhile last Friday a German tourist drowned at sea close to the hotel he was staying in Tangalle.The victim was identified as 53 year old Dimbhth Wolfgang. Police said two foreigners were caught in a rip current while swiming in the sea and one manged to save himself as he was a good swimmer.
According to Police statistics, upto June this year 373 people had drowned, of them 299 were males while last year 877 people died from drowning and of them 700 were males.
Laggala-Pallegama Divisional Secretariate's Disaster Relief Officer W.M.Sarath Jayasinghe said, they have put up warning signs at locations deemed unsafe for bathing and plans were afoot to put up more.