Discourse aimed at building consensus on new constitution: PM
View(s):

Prime Minister Ranil Wickremesinghe said the current political discourse in the country was to build consensus on a new constitution. "The current exercise is to reach consensus. It is important to get consensus in Parliament as well as in the country on major issues," Mr Wickremesinghe said addressing the inauguration ceremony of the National Law Conference 2017/2018 in Hambantota on Friday. The sessions end today.

He said the interim report now being discussed in Parliament set out "what has been done so far and our thinking to get the views of Parliament as to whether we should proceed or not proceed". "Some people ask why a new constitution. We require a political settlement after the war. We need a new system of elections. The debate on the Executive Presidency should be brought to a close," he explained. The premier said further discussions and consultations would be held with religious and civil society leaders and the process would go on till February or March before the drafting of a new constitution would begin.

"We have not gone to the legal aspects. It is historic that all have come out with one document," he added. He said everybody had now agreed that the correct Sinhala word to describe the nature of the state was "Ekeeya" and nobody had disputed that. The Prime Minister said that in the United Kingdom and the United States, federalism meant division of the supreme legislative power. Yet in the last decade, the UK Parliament, the so-called unitary power, had decided that it was possible for Scotland and Northern Ireland to break away from the union.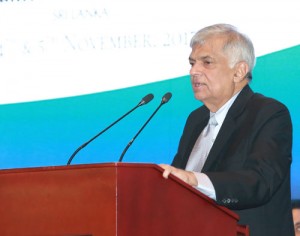 "The world unitary did not mean indivisibility. It has only one meaning — concentration of legislative power in Parliament," he pointed out. However, he said in Sinhalese it meant both. "So, is unitary the proper word? That is a matter to be debated. Or have we formed a stronger word as Ekeeiya. I was taken up with the SLFP proposals which has used Ekeeiya in all three languages."
He said that in regard to religion it was best to ask all religious leaders – the Mahanayakas, cardinals , bishops and other clergy. "This is only a political exercise. Finally, I presume there will be a referendum. It is up to the younger generation to decide . This is the beginning of the political process to build the consensus."
National Law Conference Chairman Murshid Maharoof and Bar Association President U.R. de Silva, PC addressed the inauguration. Conference convener Shamir Zavahir delivered the vote of thanks.