Musaeus beat Ladies; retains Higgins Trophy
View(s):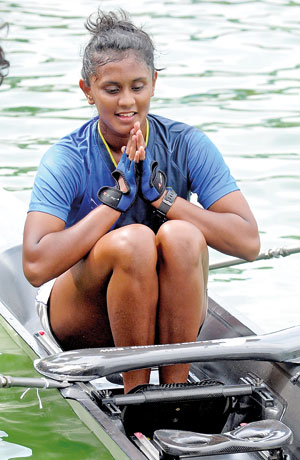 The Colombo Rowing Club premises was covered with Blue and Gold at the conclusion of the 14th Annual Musaeus-Ladies Rowing championship as Musaeus College retained the Marie Musaeus Higgins Trophy with a close 27-25 points win last Saturday.
A good day's rowing was witnessed as both schools matching each other in every event establishing two new records. The competition got off to a brilliant start with Medhani de Alwis of Musaeus winning the B Scull event with a time of 4.21mts defeating Anelka Karunaratne who timed 4.36mts.
In the A Scull event the experienced Ishara Abbey levelled things for Ladies with a win over Binali de Alwis by 4.21mts to 4.44mts. Binali de Alwis combining with Ranuli Wickremasekera scored another win for the Colombo 7 school timing 4.15mts over Gabrielle Sananayake and Ayani Perera who timed 4.27mts in the B Pair event.
The first new record of the day was established when Musaeus pair Senuri de Silva and Medhani de Alwis timing 4.02mts lowering the previous record of 4.05mts overcoming Ashvini Subasinghe and Nihara Warawita in the A Pair.
In the B Double Scull event Musaeus College skipper Senuri de Silva together with Medhani de Alwis beat Anya Dewapura and Anithhra Fernando with a timing of 4.12mts to 4.23mts. Ladies A Double Scull pair Ishara Abbey and vice captain Nihara Warawita defeated Thanushi Perera and Nishadhi Mayadunne of MC with a time of 4.17mts to 4.25mts. In the C Four race Ladies oarswomen Ayani Perera, Avani Samarasinghe, Gabrielle Senanayake and Chalya Rodrigo with a time of 4.10mts defeated Musaeus four timing 4.25mts.
Musaeus College registered victory in the B Four race with an excellent timing of 4.10mts to 4.25mts. The crew comprised Thanushi Perera, Randini de Silva, Mayanthi Weerakoon, Hashini Hettigoda and Lishadhi Mayadunne.
Musaeus were assured of the overall victory winning majority of events. The all important event of the day the A four was won by Ladies College timing 3.46mts over Musaeus time of 3.56mts establishing a new record. The winning crew was represented by Ishara Abbey, Davina Koch, Nihara Warawita, Janindri Fernando and Ashvini Subasinghe. The Old Girls Fours race was won by Musaeus College timing 4.40mts to 5.09mts of Ladies College.
– Lakshman Ranasinghe;
Pix Amila Gamage