356 School Shooters awarded Colours
View(s):
Shooters from Nalanda College and Devi Balika Vidyalaya took the cynosure among 356 award winners at the Sri Lanka Schools Air Rifle and Air Pistol Awards and Colours Presentation, held at the Main Auditorium of Nalanda College in Colombo.
Awards were presented under five categories. They were Individual Events for New, Intermediate and Senior Shooters, Qualifying Tests Overall and Team Championships. Nalanda College shooters topped in almost all the categories while also claiming the team honours as Devi Balika girls took the team championship while also earning a few individual awards.
Shooters from Royal College, Ananda College and Prince of Wales College were dominant among the boys while Visakha Vidyalaya, Sirimavo Bandaranayake Vidyalaya, Bandaranayake Central Veyangoda and D.S. Senanayake MV Ampara shooters were among the forefront in the girls' category. Considering performances through the periods of 2016 and 2017 local and national championships, 356 students representing all Provinces were awarded with Sri Lanka Schools Shooting Sports Association (SLSSSA) Colours insignia.
The event was held on September 29 at the Main Auditorium of Nalanda College where S.M. Keerthiratne (President of SLSSSA and Principal of Ananda College), Thilak Wattuhewa (Principal of Nalanda College), Shirantha Peiris (President of National Shooting Sport Federation), DIG Gamini Walgama (Vice President of National Shooting Sport Federation) and Group Captain Jagath Ranasinghe (Senior Sport Shooting Judge) were present as Guests of Honour.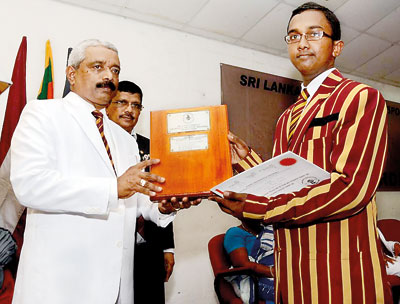 Awards and Colours winners
Individual events for New shooters
Girls – Air Rifle (15 Shots)
1: Best Shooter – K.G. Sathsarani Aloka (Subharathi Mahamathya MV Homagama)
2: P.G.W.P. Livisarani Ekanayaka (Devi Balika Vidyalaya Colombo)
3: K. Vishmi Amada Tharupathi (Dharmapala Vidyalaya Pannipitiya)
Girls – Air Pistol (15 Shots)
1: Best Shooter – Yashoda de Silva (Visakha Vidyalaya Colombo)
2: M.A. Nipuni Preksha (Tangalla Balika Vidyalaya)
3: F. Inarah Raji (Devi Balika Vidyalaya Colombo)
Boys – Air Rifle (15 Shots)
1: Best Shooter – G.W. Menuka Dakshitha (Nalanda College Colombo)
2: Danidu Mohotti (Ananda College Colombo)
3: Y.S. Avindya Dayarathna (Kegalu Vidyalaya)
Boys – Air Pistol (15 Shots)
1: Best Shooter – W.A. Deshan Maduranga (Nalanda College Colombo)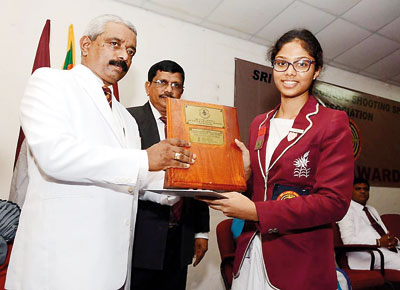 2: Uvin Windula Wanigasekara (Rahula College Matara)
3: S.G.M.H. Maduwantha (Dutugemunu Central Buttala)
Individual events for
Intermediate shooters
Girls – Air Pistol (40 Shots)
1: Best Shooter – Natasha Hendalage (St. Bridget's Convent Colombo)
2: K.A. Dinithi Nimeshika (Bandaranayaka Central Veyangoda)
Girls – Air Rifle (40 Shots)
1: Best Shooter – T. Kaveeshvari Pemmawadu (Dharmasoka College Ambalangoda)
2: W.A. Yashoda C. Darmadasa (Bandaranayaka Central Veyangoda)
3: Tharindi de Abrew (St. Bridget's Convent Colombo)
Boys – Air Rifle (60 Shots)
1: Best Shooter – S.M.C.S. Senanayaka (Maliyadewa College Kurunegala)
2: Vidura Peiris (Prince of Wales College Moratuwa)
3: Anish Dambukola (S. Thomas' College Mt. Lavinia)
Boys – Air Pistol (60 Shots)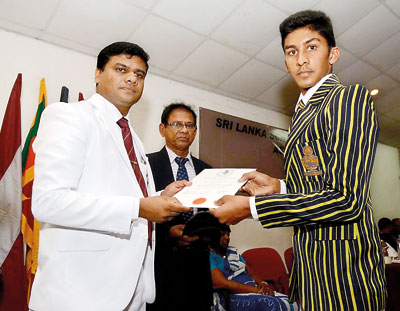 1: Best Shooter – Shaveen Abhishek Wanaguru (Nalanda College Colombo)
2: Rakindu Niwunhella (Royal College Colombo)
3: Heshan Fernando (Prince of Wales College Moratuwa)
Boys – Air Rifle (60 Shots) Break Barrel
1: Best Shooter – Avishka Fernando (Prince of Wales College Moratuwa)
2: Enuka Thotawatte (Prince of Wales College Moratuwa)
3: Lahiru Sandaruwan (Sri Sumangala Central Wariyapola)
Individual events for
Senior shooters
Girls – Air Pistol (40 Shots)
1: Best Shooter – Maheesha Jayasundara (Devi Balika College Colombo)
2: Chathuni Imaya Kandawinna (Sirimavo Bandaranayaka Vidyalaya Colombo)
3: Agra Savindi Gamage (Sirimavo Bandaranayaka Vidyalaya Colombo)
Girls – Air Rifle (40 Shots)
1: Best Shooter – T. Kaveeshvari Pemmawadu (Dharmasoka College Ambalangoda)
2: Amandika Amarasinghe (Devi Balika Vidyalaya Colombo)
3: W.A. Yasoda Darmadasa (Bandaranayaka Central Veyangoda)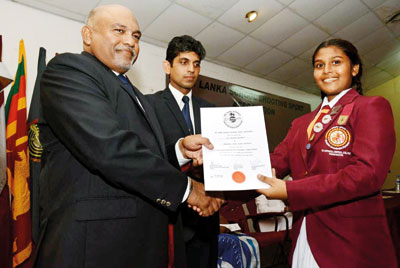 Boys – Air Rifle (60 Shots)
1: Best Shooter – S.M.C.S. Senanayaka (Maliyadeva College Kurunegala)
2: Vidura Peiris (Prince of Wales College Moratuwa)
3: Anish Dambukola (S. Thomas' College Mt. Lavinia)
Boys – Air Pistol (60 Shots)
1: Best Shooter – Akila Sithumina Vidanage (Royal College Colombo)
2: Sanodh Dulsanda Samarasekara (Nalanda College Colombo)
3: Vihanga Shamoda Rajapaksha (Bandaranayaka Central Veyangoda)
Individual Qualifying Tests – Overall
Best Shooters – Air Rifle
Girls: Krishnitha Wasudewan (Stafford International School Colombo)
Boys: Anish Rayan Ranasinghe (S. Thomas' College Mt. Lavinia)
Best Shooters – Air Pistol
Girls: Chathuni Imaya Kandavinna (Sirimavo Bandaranayaka Vidyalaya Colombo)
Boys: P.D.T.D. Bandulasena (Dharmaraja College Kandy)
Team Competition – Girls Schools
1: Champions – Devi Balika Vidyalaya Colombo (R.A.H. Navinya Rupasinghe, P.G.W.P. Livisarani Ekanayaka, M. Gimhani Rambukwella, W.K. Menuri Chamathka, Finarah Raji, A.P.P. Priyashani Dayarathna)
2: Second Place – Visakha Vidyalaya Colombo (Upani Gunathilake, Susandi Kasthuriarachchi, Matheesha Halpage, Yashoda de Silva, Chathuni Sooriyabandara, Sanduni Wakkumbura)
3: Third Place – D.S. Senanayaka Central College Ampara (U.W. Malindi Sashikala, Y.K. Thirasha Sithumini, W. Hashmika Sewmini, P.D. Divyanjalee Nelushika, A.L.A.D.J. Niroshani, D.H. Shyamindya)
Team Competition – Boys Schools
1: Champions – Nalanda College Colombo (G.W. Menuka Dakshitha, Sarindu Dulkith Batagoda, Vihan Hansaja Bandara, W.A. Deshan Maduranga, Lakindu Udawatte, S.A. Garuka Sachintha)
2: Second Place – Ananda College Colombo (Danidu Indira Mohotti, Ninura Gunasekara, Dinura Devran Liyanage, N.D. Hesith Nethmal, Rumeth Sathnidu, Chenuka Adithya)
3: Third Place – Prince of Wales College Moratuwa (Mahesh Dilshan, Sandun Kaushal, Chamika Sakalasooriya, Pasindu Nilupul, Inura Sanmith, Kasun Sampath)