Grade 5 student Dulanjali 1st ever to pass Scholarship Exam from her school
View(s):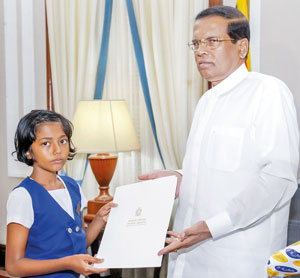 President Maithripala Sirisena this week met B.D. Dulanjali Madumali Premarathna, a Grade 5 student of Pahala Diggala Primary School in the Galewala Education Zone, who is the 1st ever to succeed in the Scholarship Exam from that school.
The President praised her educational talents for scoring 168 marks at the 2017 Grade 5 Scholarship Exam, though living under economic difficulties, as she had lost her father, and lacking proper shelter. President Sirisena pledged to grant Rs 3,000 per month to the student, until completion of her higher education and presented school books and gifts adequate for a year, the President's office said.
Minister Sajith Premadasa who was present at this event, promised to build a new house for Dulanjali Madumali. Pahala Diggala Primary School was established 45 years ago and currently has 96 students on its roll.
The Principal Somasiri Attanayake, Galewala Zonal Education Director Nayomi Hettiarachchi and Dulanjali Madumali's mother were among those who participated in this event.