Trade deficit expands despite export growth
View(s):

The trade deficit expanded to US$5.3 billion in the first seven months of this year in spite of an export growth of 6.5 percent during this period. Although the trend of increasing export earnings continued for the fourth successive month, this 12.8 percent increase in the trade deficit was brought about by import expenditure increasing to as much as US$11.7 billion compared to export earnings of only US$6.4 billion in the first seven months of this year. This trend in trade is likely to result in a trade deficit of about US$10 billion.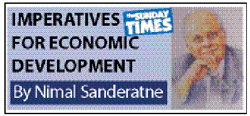 Imports exceed exports
This higher import expenditure compared to export earnings has resulted in persistent trade imbalances over the years. Import expenditure has exceeded export earnings in nearly every year since independence. Exports have exceeded imports only in about four years since 1950. The last time the country had a small trade surplus was forty years ago in 1977, when there were draconian import and exchange controls.
Trade deficit disappointing
This year's widening of the trade deficit is particularly disappointing as earnings from exports surpassed US$1 billion in July 2017: an increase of 13.9 per cent compared to July 2016. In fact exports have been increasing in the four months after March. However, import expenditure increased by a much larger US$1.4 billion to widen the trade deficit in July to US$575 million. In the first seven months of 2017 the trade gap widened by 9.2 per cent to US$5.3 billion owing to imports increasing to US$11.7 billion during this period. Also disappointing is the decrease in garments exports by 3.5 percent in the first seven months.
Export growth
During the first seven months of 2017 export earnings increased by 6.5 percent due to higher exports of tea, transport equipment, petroleum products, spices and seafood. The export performance improved after March this year when there were increases in exports. If these exports continue to increase and exports exceed US$1 billion per month, exports could exceed US$11 billion.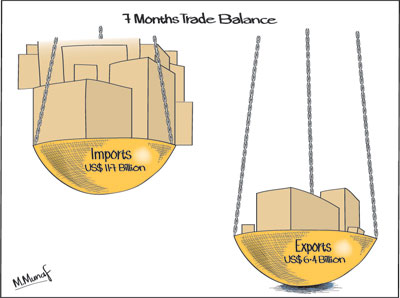 Decline in garments exports
In contrast to this favourable development in exports, there was a disappointing export performance in textiles and garments, gems, diamonds and jewellery and leather, travel goods and footwear all of which decreased in the first seven months. Consequently industrial exports grew by only 3 percent. Especially disconcerting is the decrease in exports of the country's main manufactured export- garments – by 3 percent in the first seven months. The pertinent issue is whether the country has lost its competitive edge in garments exports despite the revival of GSP plus.
While the growth in tea exports by 20 percent is a healthy development that is likely to continue for some time owing to increased international prices, a real threat to increased tea export earnings is reduced tea production. This threat is owing to the misguided policy restricting imports and availability of glycophospate that is essential to control weeds on tea plantations. It is essential to generate a significant tea export surplus at a time when international prices are favourable.
Imports increase
Imports increased largely due to higher imports of fuel and food, especially rice. The increase in food and fuel imports are likely to abate somewhat during the rest of the year. The import expenditure on machinery and equipment, personal vehicles and fertiliser that declined during the first seven months would hopefully be contained to ease the trade balance in the coming months.
Overall trade balance
The emerging trade position is rather disappointing as the gains in export growth in the last four months have been negated by increased imports. Furthermore while the growth in tea exports is a favourable development, the country's main manufactured export, garments has decreased in the first seven months. Consequently manufactured exports have increased by only 3 percent. Are garments an export in which we have a competitive advantage? If so what are the manufactured exports we can look to to expand export growth?
Balance of payments
Despite the widening of the trade deficit, the current account of the balance of payments has a surplus of US$1.4 billion owing to tourist earnings, workers' remittances and capital inflows. Earnings from tourism increased by 3.6 percent to 2.1 billion, while remittances declined by 5.7 percent to US$3.9 billion. While the growth in tourism has slowed down, workers remittances that had a setback, has regained its growth, In July workers' remittances increased by 3.4 percent.
In conclusion
The fundamental weakness of massive trade deficits continues. The large trade deficits in the last three years were due to imports growing, while exports decreased. Export earnings decreased by 5.6 percent in 2015 and by 2.2 percent in 2016. Export earnings are only about 55 percent of import expenditure. Consequently trade deficits reached US$8.3 billion in 2014, increased to US$8.4 billion in 2015 and ballooned to US$9.1 billion in 2016. This deterioration in the trade balance has continued in the first seven months of this year despite an improvement in exports in the last four months owing to an increase in imports exceeding the increase in exports. Although exports this year may exceed US$11 billion if the trend in export growth continues, indications are that this year's trade deficit might exceed US$10 billion owing to imports increasing at a much higher rate than exports. Hopefully the import expenditure on food and fuel would abate somewhat and other intermediate and investment goods imports will be contained.