We must look at the long haul too
View(s):

The third leg of the Asian Rugby Sevens is expected to be played in Colombo on 14th and 15th October. Can Sri Lanka, playing at home,   do better than what they have done in the previous two legs.  Let us build on hope that anything can happen in a sevens game of rugby.  However as things are, Sri Lanka yet will remain in the fifth slot.

Korea is once more emerging as a lead nation in Asian sevens as they beat Japan in the Final.  This gives them a great opportunity to qualify for the World Cup Rugby Sevens to be played next year in the USA. In 2016 Sri Lanka were placed overall in second place behind Hong Kong ahead of Korea and China.

Japan who had already earned a place in the World Series was placed lower with a development squad taking part. Whatever the excuse is, it was Japan that played and record will show a lower standing.

The process for the teams to be included in the World Series sevens include the  eight quarter-finalists from RWC Sevens 2013 in Moscow; New Zealand, England, Fiji, Kenya, South Africa, Wales, Australia and France qualified automatically for the 2018 edition and includes host team USA making a total of nine . Under the agreed qualification process, the top four teams outside of those nine at the 2016-17 series would book their place in San Francisco, meaning that Scotland, Canada, Argentina and Samoa are now confirmed. Filling the next eleven slots will be after regional competitions which include two from Asia. It all appears the two will be from Japan, Korea and Hong. Hong Kong however will need to have a lot of hope in the Colombo leg Sri Lanka as it is in fifth position with little chance of climbing when you look at their performance against Japan and Hong Kong and Korea this year.  The performance does not look impressive and even losing to China in Hong Kong will possibly seal our place as fifth.

It is in this background that I was told that the reason for the not so good performance is that we fielded a young side. Can we justify this with facts and not through image building?  As far back as in 2009 the Aussie World Series Sevens Squad was at an average age of twenty. That was under Coach Michael O'Connor.  The demands of sevens rugby has since that time directed top teams in the world to look at a young outfit more suitable for the rigorous sevens requirements.  In Sevens rugby movement demand is more relative to the physical demands of contact which is reduced. It is therefore an observation that sevens will require skills that are more likely to be with the younger players. These aspects are more fully argued in a research submitted to the University of Canberra in 2013.  "Applied physiology of Rugby Sevens: Performance Analysis and Elite Player Development"   The study points to possession, passes, ruck and maul retention are related to scoring more points in a match.  While opposition possession, conceding penalties, non retention at ruck and mauls, turnovers concede are included as negatively related to scoring of points.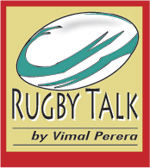 Comparison of performance based on a model including these factors and reasons leading to the performance and or non performance in these areas are more important than fancy statements like we have a young team  which are  emotive to justify non performance.  The need of sevens rugby is the variability of characteristics demands a uniform physical and performance standards in contrast to fifteens rugby. Simply said sevens imposes unique demands on players during competition and coaching, preparation and team composition has to be with this in mind. While a winning performance in the third leg will not take Sri Lanka to heaven, the study against competencies and preparation will take the island nation closer to a medal prospect at the Asian Games than glib generalisation "it was a young team".  The body mass of seven players are lower than those of fifteens players as a result of the demand for the characteristics of sevens which require body movement as revealed by research.  Characteristics in team performance are under main areas of Math development, scoring set piece play and phase play which are broken into subareas as similar to the positive and negative contributors mentioned earlier in this article. Research also suggests that the fifteen players are older than the seven players.  Fifteen forward plus ors have a mean age of 25.3 ± 3.4 as against the sevens of 22.4 ±3.4. The backs are 24.5 ±2.3 years in fifteens and 21.5 ± 2.0 as quoted in studies in age and body mass.
The need for critical analysis of factors effecting performance is what is needed and with a sports science institute established more models for developing a criteria and suing available packages are more important than generalisation if we are to look beyond 2017.
Vimal Perera is a former Rugby Referee, Coach and an Accredited Referees' Evaluator IRB