SLC official steps down in disgust; slams inside politics
View(s):

True professionals, in general, are multifaceted. To keep them occupied, they like to keep their fingers in more than one pie. Yet, when one of their fingers is in a pie, which is also a family tradition, it becomes an obsession and an indefatigable passion – thus the involvement is, obviously, more.

When entrepreneur and cricket administrator Suresh Murugaser picked up the phone and contacted me, I, at once, pictured his father T. Murugaser seated at the VIP lounge of the Tamil Union pavilion and watching the proceedings beyond the boundary line. However, I was aware that Suresh, on his own terms, has cricket in his blood and how he, along with his childhood friend Dinal Phillips, turned around the cricket fortunes of the Tamil Union, not so long ago.

Then, when I read about his resignation from the Sponsorship and Marketing Committee of Sri Lanka Cricket, I got interested. Generally, professionals of that nature do not fly the white flag unless, there is more than one good reason.

Upon my request, Suresh came up with a glimpse of the Murugaser connection with cricket at the P. Sara Stadium. He explained through his father's involvement with the game of cricket, as a youngster. Suresh was automatically drawn into the environs down Serpentine Road. He said, "When Sri Lanka got Test Status, my father was the Vice President of the Board of Control for Cricket in Sri Lanka (BCCSL) with Gamini Dissanayake as its President. He was involved with the game at the Tamil Union as a player, and every other possible position in its administrative hierarchy.

"When the then Oval was being developed as a Test venue, we had to do a complete facelift of the club. At that time the BCCSL did not have sufficient finances to undertake this task. So, some of the Tamil Union stalwarts at that time shelled out their own finances to put up the wall around the grounds, and so forth. I think these are the untold stories of Tamil Union cricket.

"I, myself, was shuttling between Sri Lanka and Australia for awhile and since I made Sri Lanka my permanent abode once again, my interests went back to Tamil Union Cricket, along with Dinal Phillips. Dinal as president made some structural changes and we ended having some positive results, which we enjoyed after quite some time. We enjoyed our success for a while and it culminated with the club under Suranga Lakmal winning the Premier League title after a lapse of 65 years. The coach at that time was Brendon Kuruppu."

Then the Sunday Musings inquired from Murugaser how he got involved with the politics of SLC. With a smile, Murugaser said he does not know much about the politics of it but, he first got involved with the SLC during the last Interim Committee headed by Sidath Wettimuny, as a member of the Sponsorship and Marketing Committee. When the Sumathipala administration came aboard, its secretary Mohan de Silva requested him to join the same 'Club' once again.

He said, "During the time of the Interim Committee, we used to meet up very regularly at least once a month. As far as I am concerned, my passion is cricket, and I don't care who is running it. Unfortunately, it transpired that, as time went by, it became very clear that the administration of cricket was being narrowed down to one or two people, and may be three the most. As a result, they made all the decisions and they are rubber stamped by the Ex-Co, that is my personal take, and we, as committee members, were sidelined completely from the decision-making process. I gave it a little time to see whether it would rectify itself. But, when things became a stalemate, I watched for a while and submitted my resignation."

Explaining the repercussions of a situation of this nature, he said: "What happened over the past two-and-a-half years to the state of cricket in this country — when your national team is performing badly on a continuing basis at all levels, then you know there is an intrinsic problem that has to be addressed. My take on this – 'Yes, the players have to be held responsible, because they are full-time professionals who are treated exceptionally well, but are not performing.' As a previous administrator of a first class cricket team which had several Sri Lanka players, my take on it is very simple. I believe the cricketers do not have confidence in the administration of SLC. They feel they are being pushed around. As a result, they will never give 100% on the field. It's human nature – to a situation they don't have a say in what they are doing."

At this end, we asked as to what he saw — that was coming on. Murugaser said, "The Sponsorship and Marketing team rarely met, may be more than once or twice during the whole two-and-a-half years. We were kept in the dark. All these sponsorships that they are announcing, we did not have a clue about them. When people asked me about some of the things that were going on, I simply said I did not know."

It's a question like which came first – chicken or the egg? It is matter of, even if you vote in a new administration, it would be the same wine in a new bottle. So how do you see a solution to this inherent problem? Suresh Murugaser explained, "The cricket election has become a political event. It's no longer the cricket that we knew. It's about how much money you could spend. Now there are about 140-odd votes going around, especially among the clubs. There are certain clubs which do not even have a clubhouse, they do not have a ground and are being given money, on an annual basis, by Sri Lanka Cricket. As a result, all these people are supporting 'A' faction or 'B' faction – it has become a political game, which is the issue.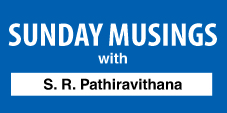 "We must get out of that political situation. I feel the best decision is for the Government to dissolve the administration and go for an Interim Committee. I feel the quality of people who are being elected are not good. So we have to go back to an Interim Committee manned by eminent people who will provide direction. At the same time, on a priority basis the constitution also has to be changed.
"Supreme Court Judge Prasanna Jayawardena was instrumental in drawing up a draft for a new constitution, which was shared with the Government during Sidath Wettimuny's time and, if that is activated, then there could be a change and the voting system could be streamlined. Then the real stakeholders of cricket — people who have proper facilities and backing — will take over the game's administration. Even the present regime once came up with the idea of a complete overhaul of the cricket administration, about two years ago, but gradually the move lost steam. Nobody knows what happened to it. Up to now I have not seen a plan about where we are going with our cricket. All seems to be happening on an ad hoc basis. That is my take. That is why I am not happy about the way things are moving."