Shuttlers seek court redress
View(s):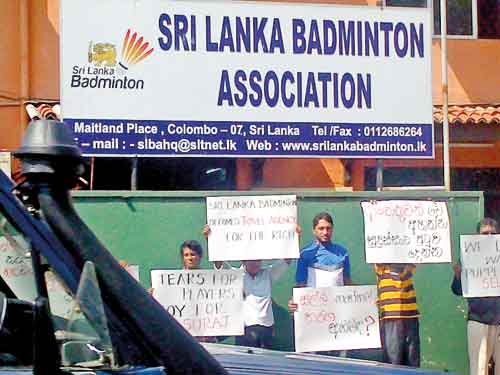 The long-awaited Annual General Meeting of the Sri Lanka Badminton Federation was put on hold on a court order.
On Thursday four affiliate clubs met the press to explain as to why they had taken the matter to courts. The  Annual General Meeting of the Sri Lanka Badminton Federation was held on March 24, 2017 but soon after new office bearers took office Sports Minister made the election null and void citing that the election was held without Audited Account Statements–a mandatory requirement under the Sports Regulations.
Thus the SLBA was dissolved and the Saman Bandara, Director General of Sports was appointed as the Competent Authority to be in charge of its day to day administrative matters and to conduct the AGM.
Thereafter the Competent Authority appointed a committee comprising ministry officials and some of the dissolved committee members to run the affairs.
When nominations were called for a fresh AGM the said committee rejected names of four members namely – Suraj Dandeniya, Parakrama Basnayake, Clarence Homer and Vijaya Lakshmi Punchihewa without citing any reasons.
On two occasions the AGM was cancelled by the DG Sports and when fresh nominations were called the name of Homer was accepted it is learnt. The date for the AGM is still to be notified and it was noted that the names of favourites and individuals whom they think are useful for them are accepted.