nATFEST 2017
View(s):

'nATFEST', the festival of dance by nATANDA will come alive in Jaffna on 1st December and the final stage of the festival will be held in Colombo on December 8.
'nATANDA Dance Theatre', founded by veteran dance guru Kapila Palihawadana in 2015 and has now reached to the pinnacle as one of the pioneering contemporary dance companies founded in recent times in Sri Lanka.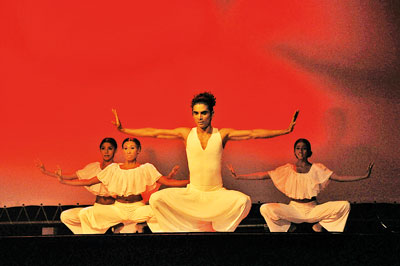 'nATANDA' was established with a vision to promote unity among all cultures. 'Through this nATFEST, nATANDA has created the space and stage for all cultures, ethnic groups and nationalities in Sri Lanka.
'Our festivals were staged in different parts of the island and many international and local talents are brought under one roof' said the creator Kapila Palihawadana.
nATFEST began in 2015 and is the first and only annual international contemporary dance festival in Sri Lanka. During the past two years, nATFEST has hosted international dancers from the USA, India, Lebanon, South Korea, England, Australia, Malaysia, Luxembourg and Germany. A number of local dancers from Jaffna, Colombo, Matara, Batticaloa, Kandy and Ratnapura, have performed at 'nATFEST'.
'Apart from the vibrant and rich performances during the festival, all participating artistes are requested to conduct workshops in order to exchange different dance styles amongst international and local artistes which are open to the general public' he added.
New international dance companies/talents from UK, India, Russia, Indonesia, Columbia, Canada and Switzerland will join to make this year's 'nATFEST' event a success. Likewise six local dance companies from North, South and Sabaragamuwa will join the fest this year.
nATFEST in 2016 was held in Kandy and this year, the festival will travel all the way to Jaffna on December 1.
nATFEST is not only a creative, educational platform for dancers, but it is also an environment where the exposure to many talents could lead to local or international career opportunities for budding dancers.
'nATANDA Dance Theatre comprise of dancers known for their unique style in dance that combines Kandyan Dance, Classical Ballet, New Wave and Contemporary Dance techniques' Kapila said.