I could have danced all night!
By Shakya Wickramanayake
Some playing more than one role, cast members share the excitement of being part of The Workshop Players' My Fair Lady that will have its curtain raiser on October 6 at the Lionel Wendt Theatre
View(s):
Skirts swishing, arms swinging, an animated group of actors loudly sing the words "With a little bit of luck!With a little bit of luck". This was the scene the Sunday Times Magazine encountered when we sat in at rehearsals for the Workshop Players' much anticipated production of My Fair Lady which goes on the boards at the Lionel Wendt theatre from October 6-15.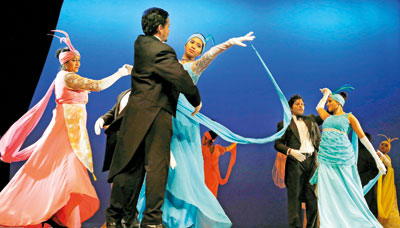 For those who are unfamiliar with either the legendary film or hit musical, My Fair Lady follows the story of a Cockney flower girl, Eliza Doolittle in Edwardian London whose life is forever altered when she becomes the protégé of phonetics professor, Henry Higgins. Higgins makes a wager with his friend, Colonel Pickering, that in six months he can teach the unrefined Cockney-accented Eliza to speak proper English. The story follows Higgins' attempt to transform Eliza into a proper lady and prove his point that it is language, and not wealth that creates class distinctions – a point that some may say is strangely still relevant to the present-day even Sri Lankan society.
Bringing to life Alan Lerner and Frederick Loewe's much-loved Broadway musical is no easy task. "It runs purely on energy," says 19-year-old Devin Randeniya, who plays Eliza Doolittle's love interest, Freddy Eynsford-Hill. But watching the young cast perform, it seems less like rehearsals and more like you're in the middle of an East London neighbourhood in Edwardian England. The cast exudes enthusiasm and energy. "We don't feel like we're rehearsing. It's like hanging out with your friends for extended periods of time," one cast member says.
Though most of the leads are seasoned Workshop Players, the majority of the cast is fairly new and quite an eclectic mix, with some like Devin and Daniella Perera ( one of the two actresses playing Eliza) barely out of school, whereas others are busy professionals. Some like Kanishka Herath, who plays Prof. Higgins and Devin Randeniya, have been acting for most of their lives while for others, this is their first role on stage.
This was the case with Harin Amirthanathan (30), who will be sharing the role of Freddy with Devin. A professional musician, Harin had never acted before and was very surprised when he got the part. But what has drawn them all to this production is their love for musical theatre and this musical, in particular.
Every cast member we spoke to told us of how 'My Fair Lady' –either the musical or the film had impacted their lives growing up. Law student Vineshka Mendis (22), playing the role of Freddy's mother, recalls how as a child, she and her cousins took her grandmother's copy and acted out the musical along with a piano accompaniment. "The play is very close to my heart," says Dhara Gunawardena (21), who shares the role of Freddy's mother with Vineshka. Having studied Pygmalion by George Bernard Shaw (the play on which the story is based) in depth for her A'levels, she is very passionate about it from both an academic and sentimental viewpoint.
For Piorina Fernando (34), the film was very much part of her childhood. "I loved the Ascot scene as a kid. It was my introduction to what upper class elite English society looked like," says the actress, who'll share the role of Prof. Higgins' mother, with Shanuki De Alwis.
But not everyone came in eagerly prepared for the auditions. One of the more interesting stories we heard was how 17-year- old Bhanu Prabashan, read about it in a newspaper that was used to wrap his lunch packet and realising the auditions were being held that very day rushed there to try his luck. He got a part!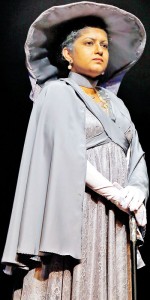 Regardless of why and how they came to be in the cast, one thing is certain, and that is their passion and dedication towards the production. "It costs more money to be a part of a production than it does to buy a ticket and watch it," says director Surein De S. Wijeyeratne. He explains that with all the money spent on travel for practices and buying food etc, the cast and the production team don't really gain anything from it. "They do it for the love of it. The love and passion they put in shines over any imperfections there maybe (in the production)," he adds.
This year's production will be novel to many of the Workshop Players, as for most this is the first time they'll be alongside their founder/ director Jerome L. De Silva on stage. The last time he acted in a Workshop Players' production was 23 years ago. According to long-time Workshop Player Dinushka Jayawickreme, who plays Mrs. Pearce, it is a new experience. "You see a different side to him. A more dramatic one!" she says. "It's an honour to be acting alongside J," adds Reihan Stephen, longtime Workshop Player.
Jerome himself seems excited about his role. He recalls the last time he was in 'My Fair Lady' was in the '70s in the Wendy Whatmore directed show. He played the young lover Freddy in that production and jokes that being "a dark and skinny thing" at the time, that he would have looked a dreadful love interest. This time around, Jerome plays the respected linguist Colonel Pickering, friend to Professor Higgins.
Asked why he didn't choose to play Higgins, Jerome said he didn't want to take on such a big role, quite content with the smaller role, enjoying himself in the process. We witness him singing along to the songs from the sidelines even if not part of the scene, free from the stresses that come with directing.
Many roles are played by alternate actors on different days and so on days when they aren't playing the role, the actors are part of the ensemble. The accents help them switch between characters, they tell us, this being especially vital when the characters they play differ so widely. "As Mrs. Eynsford-Hill, I'm a refined upper class lady. But in the ensemble I'm an old lady threatening to throw her shoes at someone," says Dhara, illustrating the point. It seems that most can now turn on the Cockney accents at will but it didn't come easily –requiring much practice and guidance from experienced actors like Shanuki De Alwis. "We sounded like cats when we first started singing with the accent," Vineshka and Dhara chuckle. In fact when they demonstrated the cockney 'ohs' it did sound like the mournful mewls of a cat.
As in any production, it isn't just the cast and their effort that determines its success. From the animated crowd scenes of the London streets to the elegant waltzes at the Embassy ball, each dance has been carefully choreographed by Ayushka Nugaliyedda and Mihara Jayalath.
While we watch the cast twirl and sing the familiar songs from My Fair Lady, we can't help but envision how it would look up on stage. If the costumes from the Ascot scene are anything to go by, this musical promises to be a feast for the senses!
'My Fair Lady' is on from October 6-15 at the Lionel Wendt Theatre. Tickets priced at Rs. 5000, 4000, 3500, 2000 and 800 are available at the Wendt and selling fast!The principal sponsor of 'My Fair Lady' is Cargills and co-sponsor Cargills magic. The Sunday Times and Daily Mirror are the print media sponsors of the show.