Motor traders up in arms over small car tax reduction attempt
View(s):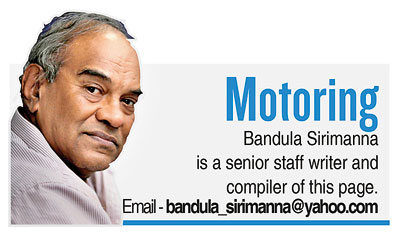 Widespread confusion prevails in the country's motor trade following local media reports that the government is to bring down prohibitive taxes on small cars of less than 800 cc engine capacity and offer greater incentives for electric vehicles in the 2018 budget.
Former Finance Minister Ravi Karunanayake had increased taxes on vehicles in his 2016 budget as the country faced a serious balance of payments crisis.
Issuing a statement, Reeza Rauf Chairman Ceylon Motor Traders Association (CMTA) noted that certain media had speculated that the Government will be proposing to reduce import duties of motor cars of less than 800 cc engine capacity and electric cars in the 2018 budget.
He pointed out that that this kind of ad-hoc changes should not take place as there was no specific category under this segment of less than 800 cc engine capacity for fossil fuelled cars.
There should be clarity in budget proposals for its easy implementation, he said adding that the small car category is in the range of 800 to 1000 cc engine capacity.
A majority of this category's imports are dominated by Indian-made cars. An example being the Maruti Wagon-R.
The present tax range of these small cars is Rs. 1.5 to 1.6 million and bringing down these taxes will have an impact on government revenue, eminent economic experts said.
The number of car registrations increased to 105,628 in 2015 and dropped sharply the following year to 45,172.
Around 23,000 cars were registered in the first eight months of this year incurring revenue loss for state coffers.
Even if the small car sales go up due to bringing down of taxes, the government cannot gain much in revenue as it would jack up the outflow of foreign exchange and increase traffic congestion, experts said.
Sri Lanka 's foreign reserves reached a level of US$ 7.3 billion by September 21 following the Central Bank's action to buy $ 1.1 billion dollars on a net basis , CB Governor Dr. Indrajit Coomaraswamy said adding that reserves were down from US $ 7.7 billion by the end of August.
Be that as it may, Finance Minister Mangala Samaraweera has directed Treasury officials to devise a "leaner, greener" budget ahead of local government elections scheduled to be held in January or before the end of the first quarter of 2018.
The budget proposals should be prepared with clarity without creating confusion among the public including the business community, economists told the Business Times noting that as a result, the implementation of many previous budget proposals had been delayed up to now.